Let's Explore the Best Oregon Beaches
If you haven't had the chance to explore the breathtaking Oregon beaches yet, this is the perfect moment to seize! Get ready to experience a coastal paradise like no other. Imagine the sun gently dipping below the horizon, painting the sky with hues of pink, orange, and purple, as you stroll along the sandy shores of Cannon Beach. The iconic Haystack Rock stands tall in the distance, casting its majestic shadow over the coastline, creating a scene that feels straight out of a fairy tale.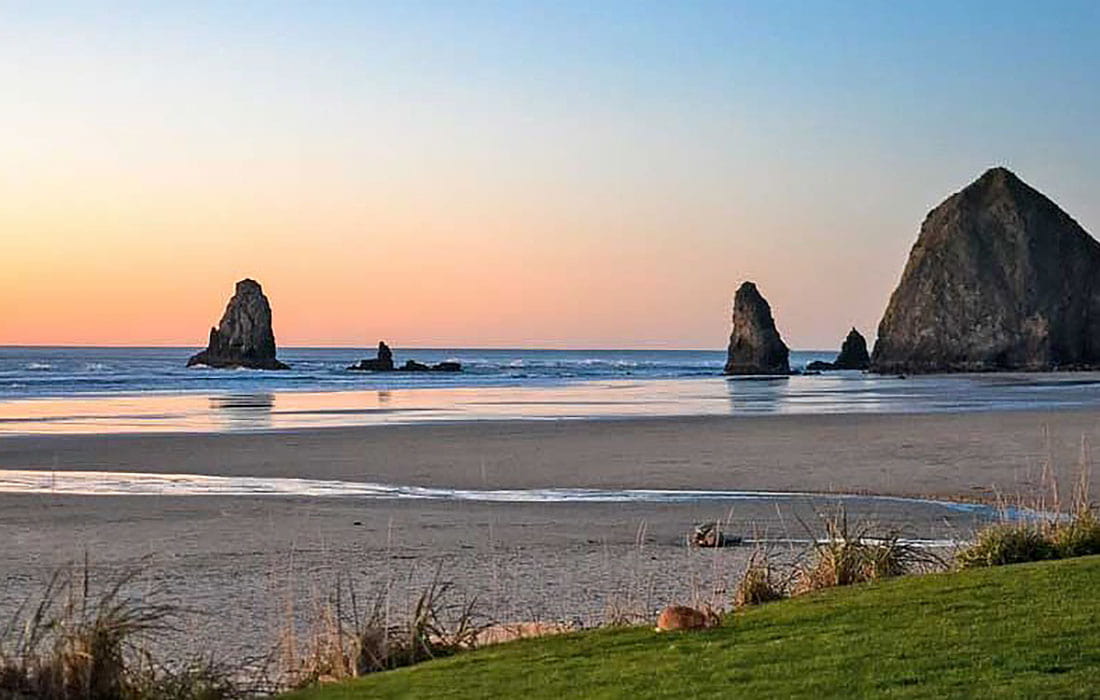 The adventurous spirit within you will be thrilled by the diverse opportunities the Oregon beaches offer. From surfing the waves at Pacific City to exploring the rugged cliffs and tide pools at Cape Perpetua, there's something for every outdoor enthusiast.
But it's not just the natural wonders that make Oregon's beaches the best. It's also the sense of community and love for the ocean that floods the coastal towns. Take a stroll through the charming streets of Astoria, and you'll be welcomed by friendly locals and a vibrant arts scene.
Whether you're a seasoned traveler or a curious explorer, Oregon's beaches hold an attraction that's hard to resist. So, pack your bags, hit the road, and immerse yourself in the magic of this coastal paradise. Adventure, beauty, and unforgettable memories await you on the beaches of Oregon.
Best Things About Oregon
Oregon is a place of striking beauty, marked by lush green forests and stunning coastlines.
Oregon is a haven for many different types of wildlife, which is why it's known as the "Beaver State of the US."
This nickname comes from the early settlers who used to hunt American beavers for their fashionable fur. But beavers aren't the only wildlife you'll find in Oregon's grasslands and mountains. The state is home to various mammals, birds, reptiles, and amphibians. You might even spot the largest species of elk in North America, the Roosevelt elk, during your visit.
However, there's more to Oregon than just its wildlife. The state is also known for its fantastic coastal areas. Some of the most breathtaking beaches in the entire country can be found there. Visitors love these best Oregon beaches for their warm waters, soft sands, and stunning views. With so many beautiful beaches to explore, people keep coming back because there's always a new Oregon beach to discover. Whether it's the famous Cannon Beach or the peaceful Manzanita, each beach has its unique charm. Whether looking for a thrilling adventure or a quiet getaway, the best beaches in Oregon won't disappoint you.
To find the best Oregon beaches, look no further! We've curated a list that will make your beach-loving heart skip a beat and your toes wiggle with anticipation. Get ready to dive into a world of sun-soaked excitement, sandy serenity, and waves of pure joy!
13 Best Oregon Beaches
The best Oregon beaches are ideal whether you're keen on thrilling activities like scuba diving, surfing, sandboarding, and boating or want to swim and relax. Oregon is famous for its top-notch beaches, making it a must-visit for those who enjoy the calming sound of waves, soft sandy shores, and wide-open skies. However, with so many different beaches, deciding which ones to visit can take time and effort. That's why we've created a handy guide to some of the best Oregon beaches.
This list provides a range of experiences, from high-adrenaline water sports to peaceful spots for unwinding. So, if you're prepared for a journey filled with scenic beauty and adventures, Oregon awaits you. Remember to pack your essentials, including your favorite beach hat and a plush towel, and get ready to discover the wonders of Oregon's finest beaches.
Cannon Beach
Cannon Beach is a delightful seaside town known worldwide for its iconic Haystack Rock. This impressive 235-foot-tall sea stack ranked the third-largest intertidal structure globally, is an emblem of the stunning Oregon landscape.
Exploring its base reveals many sea creatures, including sea stars, crabs, and sea anemones. At the same time, various bird species reside in its upper parts.
Cannon Beach is unique because of its clear turquoise waters and flawless golden sand, perfect for barefoot strolls. Although popular, the beach maintains a relaxed vibe with plenty of room for swimming, sunbathing, or surfing.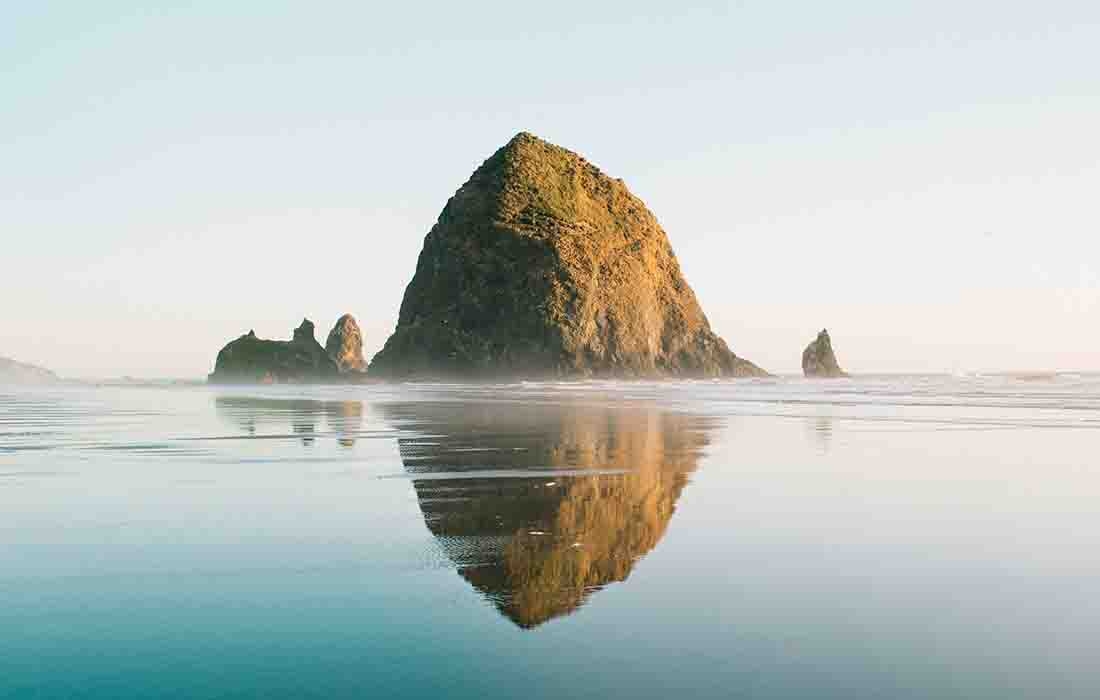 In addition, Cannon Beach is rich in culture, with several art galleries, restaurants, and community events. Accommodation options vary from luxury resorts like the Surfsand Resort and The Ocean Lodge to beachfront hotels like the Tolovana Inn and Land's End, all promising incredible views for a memorable stay. Indeed, Cannon Beach is one of the best Oregon beaches.
Manzanita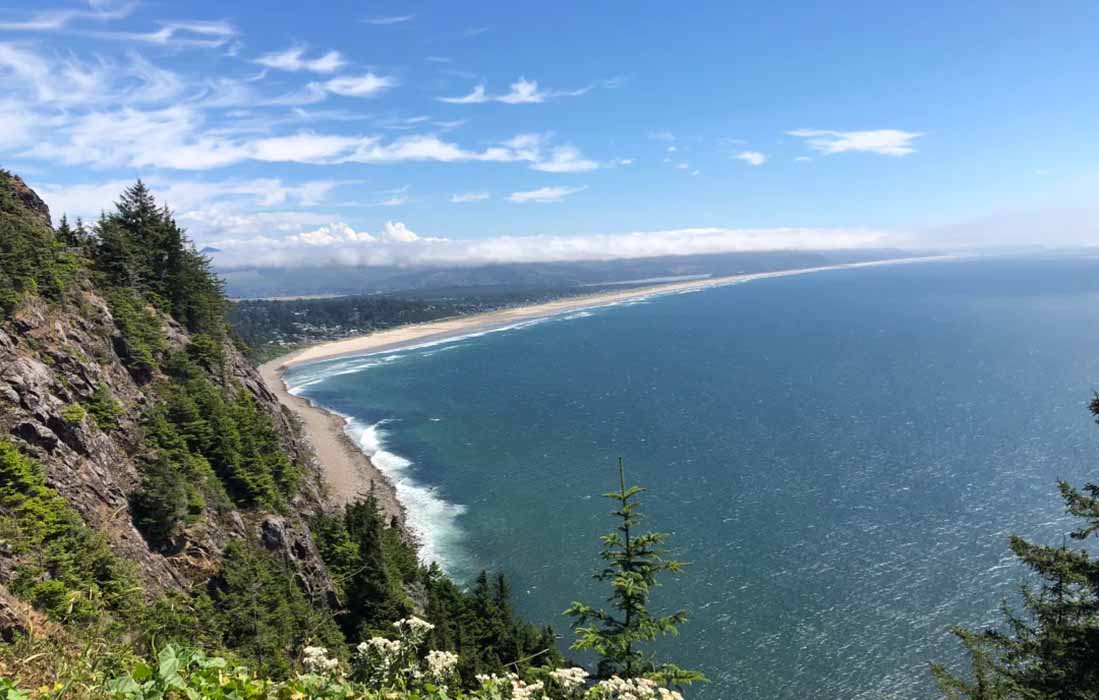 Looking for another best Oregon beach? Manzanita is on the top list. Manzanita is named after a particular local plant and is beautifully situated between the expansive Pacific Ocean, the majestic Neahkahnie Mountain, and the peaceful Nehalem Bay.
The town is proud of its pristine, seven-mile-long beach in a lovely landscape. Manzanita Beach steals visitors' hearts with its natural beauty and striking views. Its clear waters attract fishermen offering prime spots for Chinook salmon and sturgeon fishing.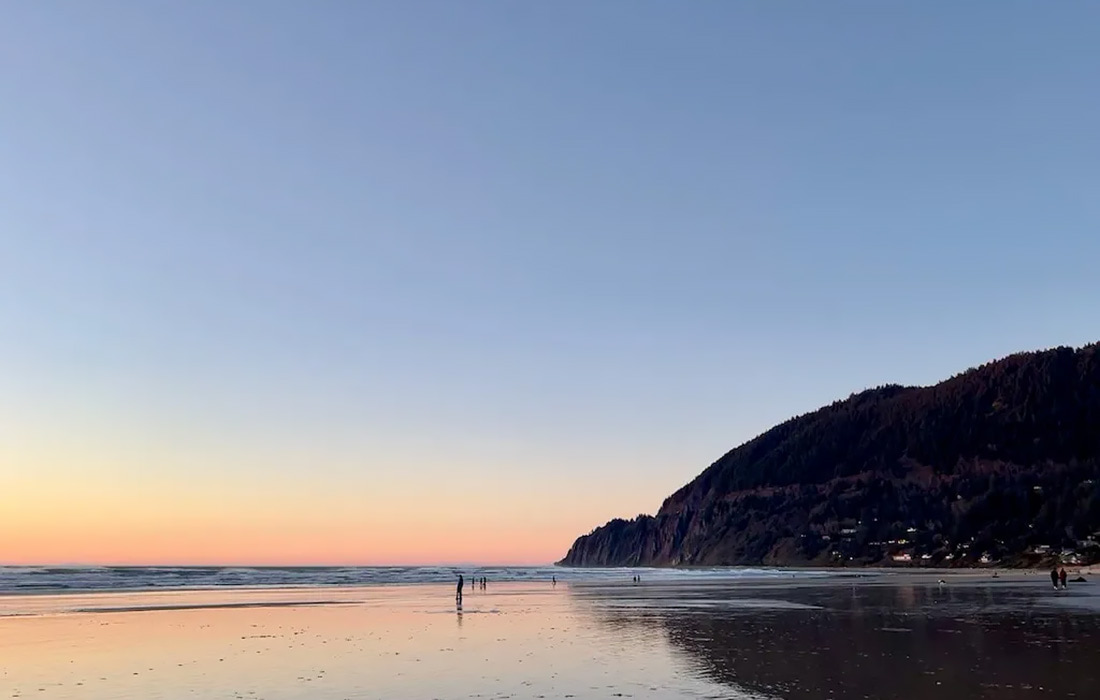 At low tide, the beach unveils a rich assortment of clams and crabs, delighting seafood lovers. For nature lovers, nearby Nehalem Bay State Park hosts various activities. The park caters to diverse camping preferences, from traditional tents and RVs to horse camping and cozy yurts. The park provides easy beach access for exploring tide pools, swimming, or cycling along the scenic 1.8-mile coastal path.
Bandon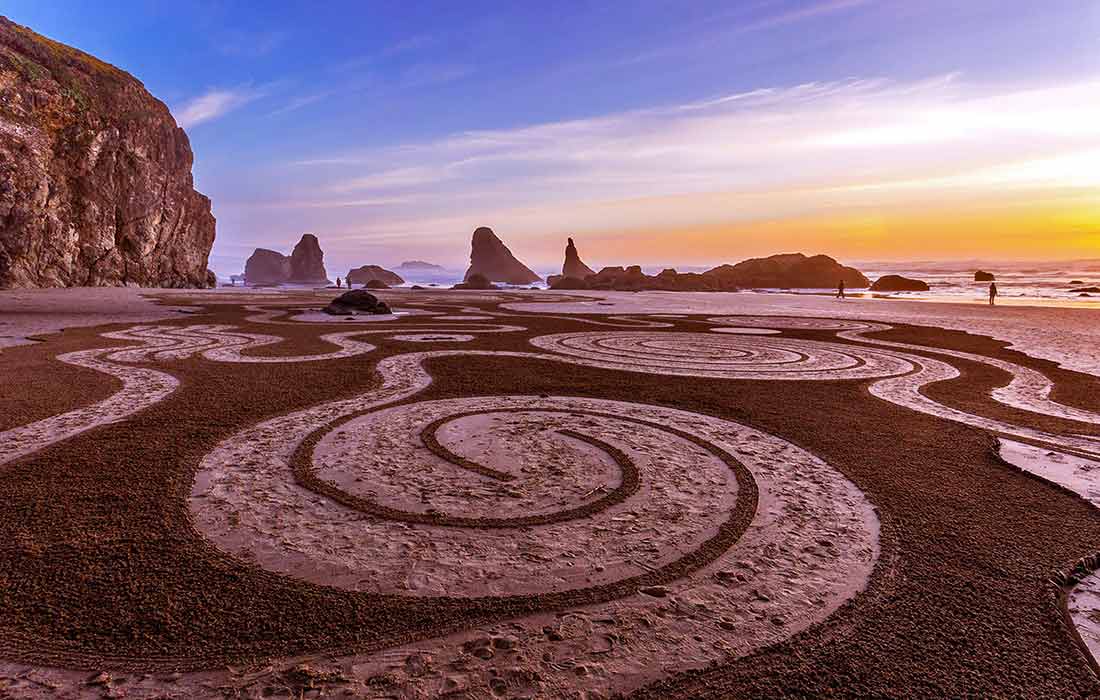 Bandon is a charming coastal city on Oregon's southern coast, located at the Coquille River's mouth. Bandon as one of the best Oregon beaches, offers a range of intriguing attractions with its historic lighthouse and stunning beaches.
Among these is Face Rock, a remarkable sea stack appearing as a face gazing at the sky. This tranquil spot serves as a sanctuary for various seabirds, seals, and sea lions. Beach Loop Drive is an excellent location in spring to witness migrating whales.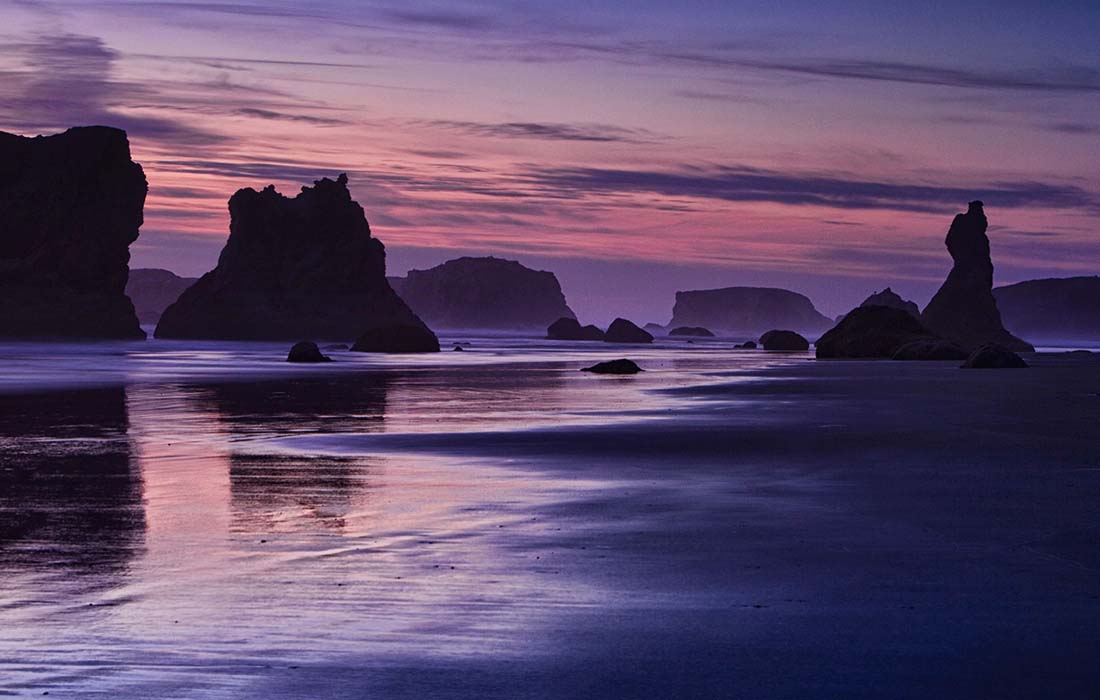 Bandon's coastline is packed with outdoor pursuits. Beautiful hiking trails meander through the landscape, providing ample wildlife-spotting opportunities. The beaches are perfect for a relaxed fat bike ride or a camping trip. Away from the coast, Bandon reveals its identity as the "Cranberry Capital of Oregon." The local cranberry fields produce an ample harvest used in diverse regional cuisine. Remember to taste fresh cranberries in various forms, like cranberry salsa or cranberry candies.
Oregon Dunes National Recreation Area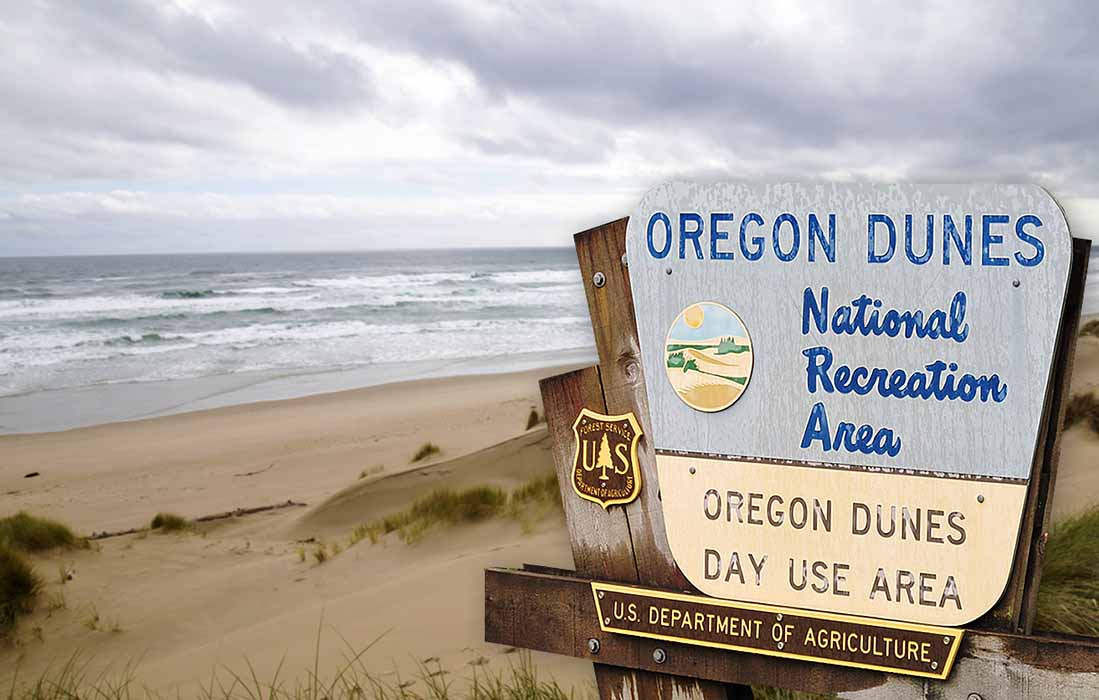 Oregon Dunes National Recreation Area is a fantastic spot for outdoor fun. This is also on the top list of the best Oregon beaches. It's 40 miles wide and packed with activities like hiking, fishing, kayaking, horse riding, camping, and beach walking. A standout feature is its massive dunes, among the most extensive coastal dunes in the world. The sights here are breathtaking, showcasing a mix of dunes, forests, and the ocean.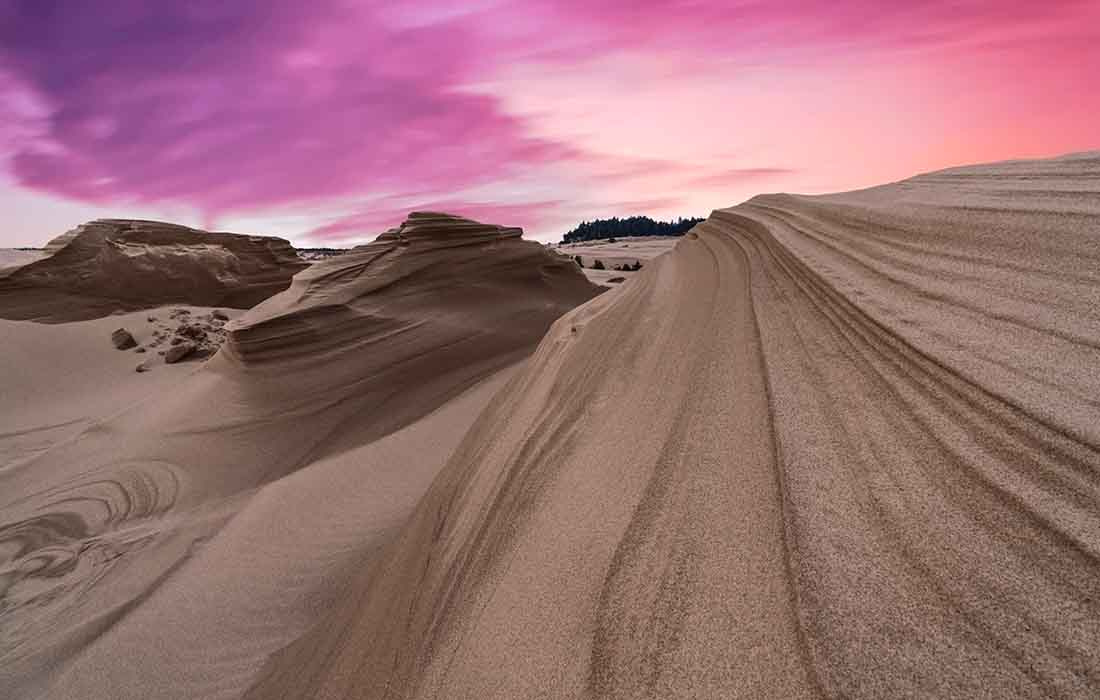 You'll find over 30 scenic lakes and trails within the nearby forest. There's room for all kinds of camping, whether in a tent or an RV, and the clear night sky is perfect for stargazing. The tall dunes, reaching 500 feet, separate the Pacific Ocean from the lush forest, providing a unique landscape. The combination of these impressive dunes, various activities, and beautiful views makes it a must-visit place for beach and nature lovers.
Yachats
Yachats is a charming coastal town in Oregon, located at the foot of Cape Perpetua. Its name, "dark water at the foot of the mountain," is fitting, as the beaches here are filled with striking rocky terrain and deep, tranquil waters. Its shores aren't sandy but consist of rough black basalt rock. Here, visitors can explore the lively tide pools full of marine life and marvel at the unique rock formations shaped over time by persistent waves.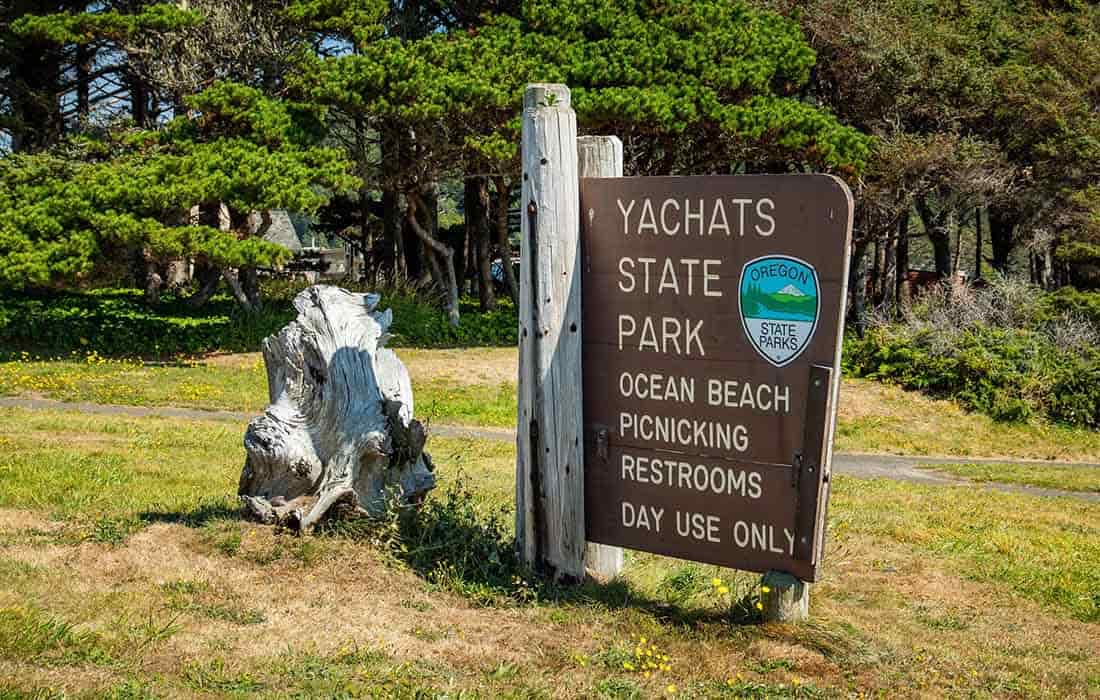 The coastline is ideal for peaceful walks, offering awe-inspiring views of the Pacific Ocean, clashing against the sturdy cliffs. Being centrally located on US Route 101, Yachats is a convenient travel stop. Heading south leads to the Cape Perpetua Scenic Area, boasting the highest reachable viewpoint along the coast. You'll be captivated by the impressive rock formations, the energy of the waves, and natural phenomena like the Devil's Churn and Thor's Well.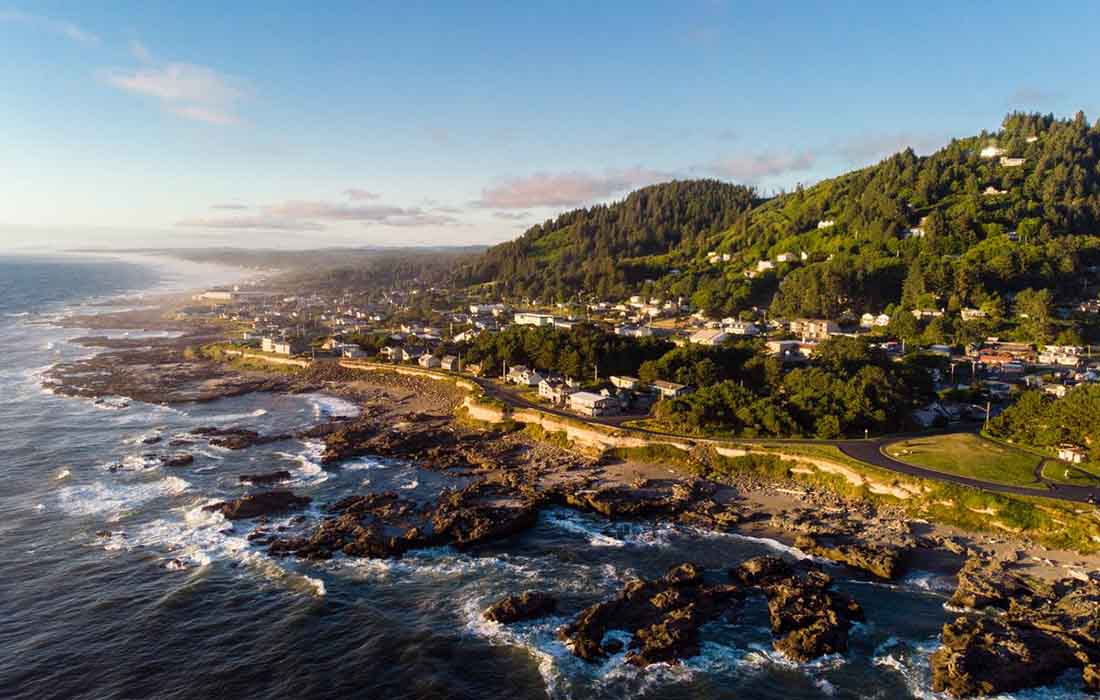 Make sure to stop by the Yachats Brewing & Farmstore, where local food and beverages await. If you're looking to explore many activities and recreation, Yachats as one of the best Oregon beaches will not disappoint you.
Seaside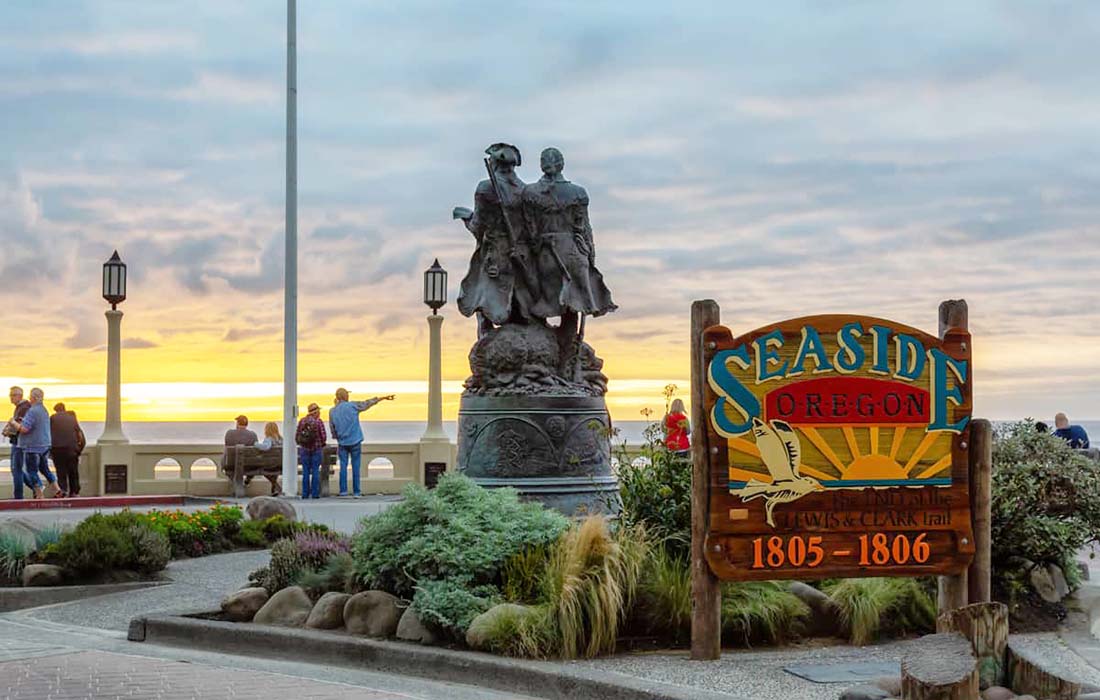 Seaside, recognized as Oregon's "play capital," and one of the best Oregon beaches, is a harmonious blend of natural allure and many activities. The large beach area gives plenty of room for sunbathing, surfing, or joining the yearly sand volleyball contest.
Adjacent hiking paths and golf courses provide additional outdoor adventure possibilities. A standout feature of Seaside is its famous Promenade, a 1.5-mile walkway bordering the coastline, perfect for strolls, cycling, and viewing the vast ocean.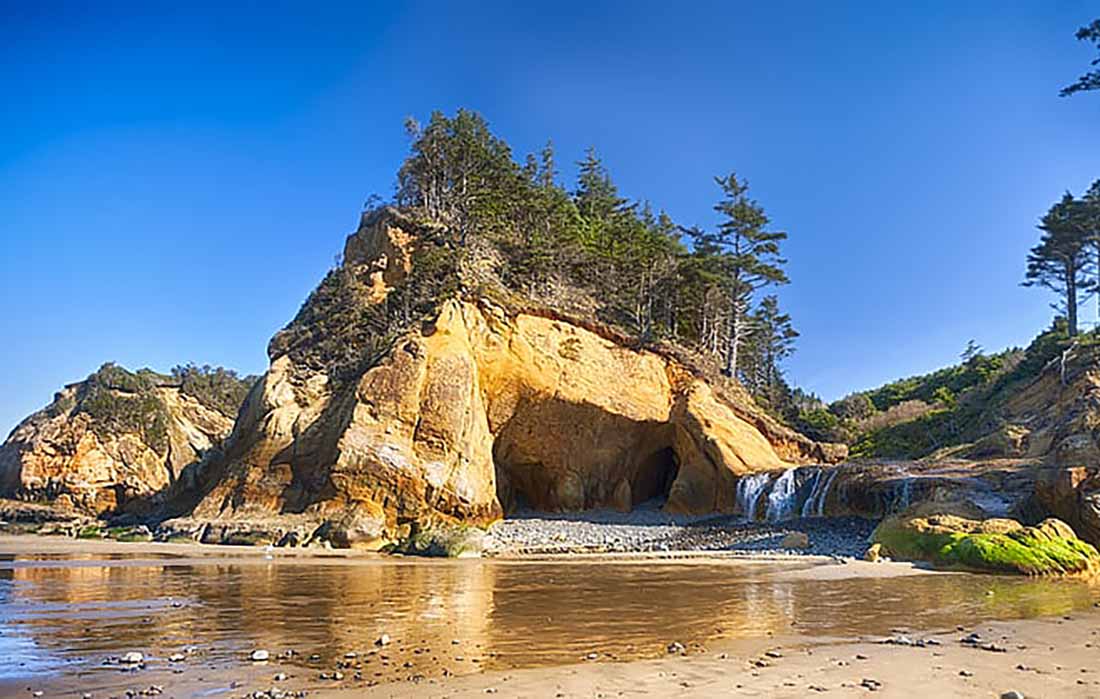 The town exhibits a lively atmosphere filled with numerous shops, dining options, and entertainment venues. Travelers can browse local boutique stores for one-of-a-kind coastal keepsakes or savor fresh seafood at an oceanfront restaurant. Popular family attractions include the Seaside Aquarium and Funland Arcade. Catch a live show at the Seaside Civic and Convention Center, or enjoy a movie at the quaint Seaside Cinema to taste local culture.
Oceanside
Welcome to Oceanside, one of the Best Oregon Beaches that will steal your heart and ignite your sense of adventure! This treasured haven is a paradise for nature lovers and beach enthusiasts alike, offering a delightful array of activities to satisfy your coastal cravings.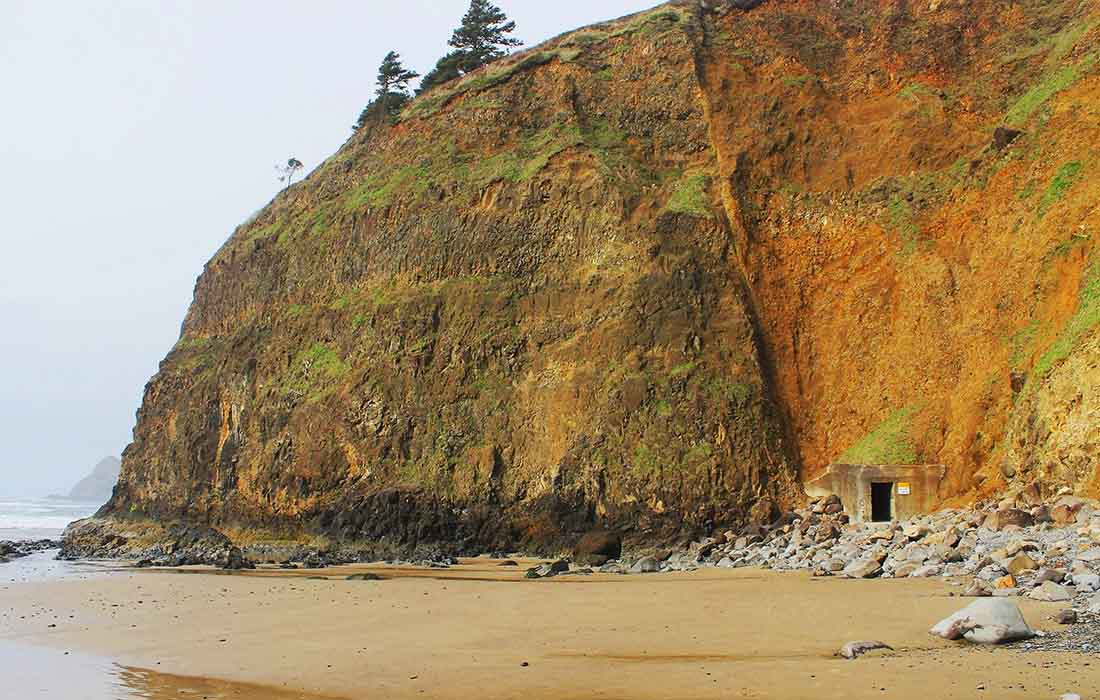 Agate hunting, beachcombing, surfing, and fishing await you on the sandy shores of Oceanside. Let the rhythm of the waves guide your exploration as you seek out beautiful agates, collect seashells, ride the ocean swells, or cast your line for the day's catch. There's something for everyone to enjoy!
Nestled beneath a clifftop village, Oceanside exudes a serene charm, with a vast stretch of shoreline inviting you to unwind and soak up the tranquility. Nearby, the Three Arches National Wildlife Refuge stands as a testament to the region's commitment to protecting diverse species like tufted puffins and murres. Nature's wonders unfold before your eyes!
As you traverse the scenic Three Capes Scenic Route, prepare to be mesmerized by the breathtaking vistas of lush green hills meeting the mighty Pacific Ocean. The Oceanside Beach State Recreation Site beckons, offering a sandy sanctuary overlooking the majestic Three Arch Rocks National Wildlife Refuge. It's a sight to behold, where nature's beauty takes center stage.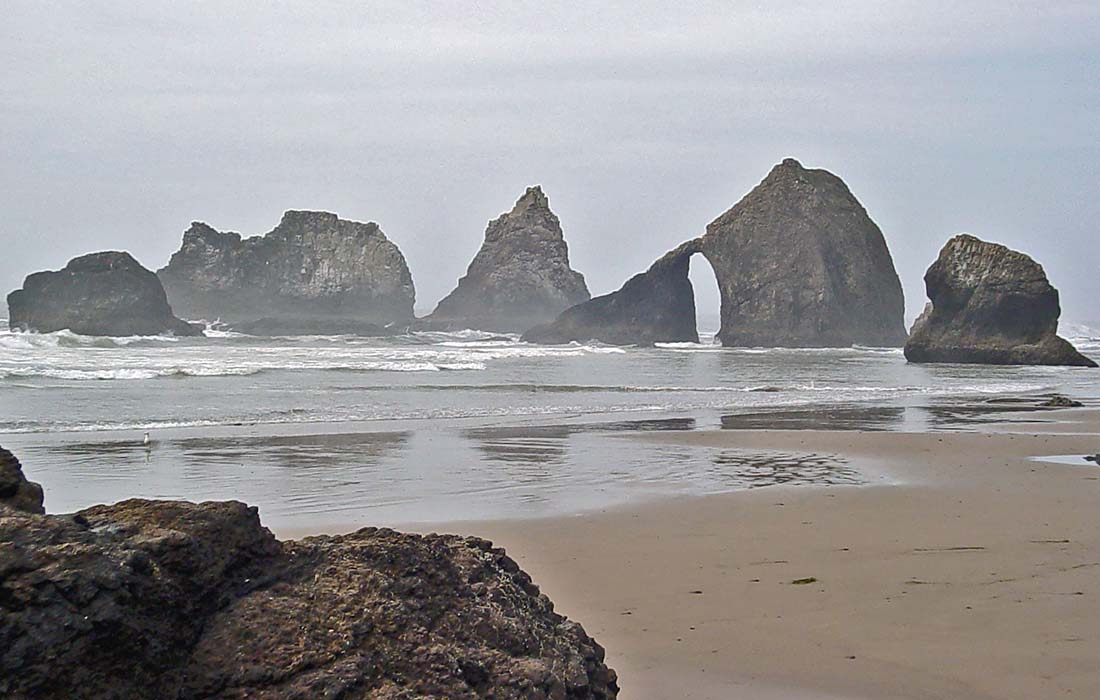 For the fearless adventurer within you, a journey through a basalt tunnel leads to Tunnel Beach, a hidden gem waiting to be discovered. Explore secluded coves and vibrant tide pools during low tide, immersing yourself in the magic of the coastal ecosystem.
And when you've worked up an appetite, make sure to indulge your taste buds at the famed Tillamook Creamery inland. Sample their mouthwatering offerings and savor the flavors that make Oregon's culinary scene truly exceptional.
So, whether you're seeking tranquility, embarking on thrilling adventures, or simply craving the beauty of nature, Oceanside, one of the Best Oregon Beaches, promises an unforgettable experience. Dive into the wonders of this coastal treasure and let it leave an indelible mark on your beach-loving soul.
Newport
Newport, home to some of the Best Oregon Beaches will leave you in awe of their beauty and captivate your senses with a delightful coastal charm. This relatively large coastal town offers a plethora of sights and experiences that are sure to make your visit unforgettable.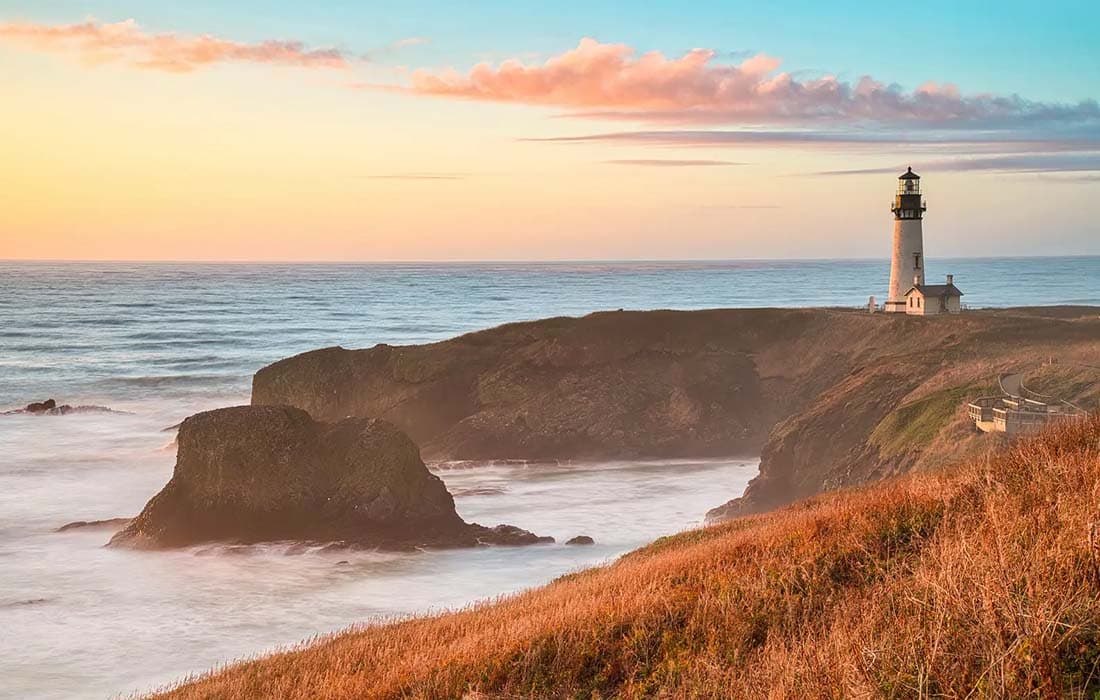 The renowned Oregon Coast Aquarium is one standout feature that attracts visitors from far and wide. Immerse yourself in the wonders of marine life as you explore mesmerizing underwater exhibits and engage in interactive experiences. It's an opportunity to create lasting memories and deepen your understanding of the ocean's fascinating inhabitants.
But Newport isn't just about the aquarium—it boasts a selection of great beaches that beckon you to relax, unwind, and soak up the coastal ambiance. Among these gems is Nye Beach, nestled in an area steeped in history. This charming spot offers comfortable accommodations, excellent restaurants serving delicious local cuisine, and a calendar brimming with exciting events. It's the perfect place to indulge in leisurely beach days and embrace the laid-back atmosphere.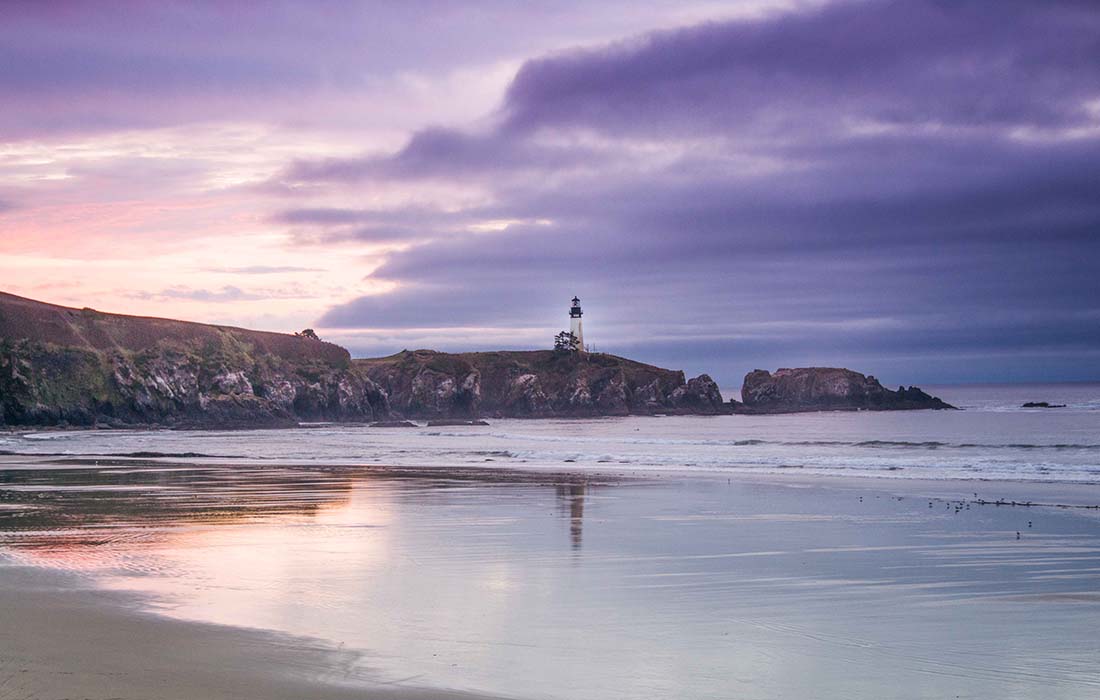 Agate Beach State Recreation Site is an absolute must-see for those seeking a fun-filled day by the sea. This coastal gem caters to adventurers of all ages, offering activities like digging for razor clams and surfing the rolling waves. Take a stroll along the broad sandy beach, listen to the rhythmic lull of the waves, and feel your worries melt away in this tranquil haven.
If you're traveling with family or simply want to explore the great outdoors, look no further than South Beach State Park. This expansive park boasts a playground for the little ones, beautiful trails for scenic walks, and even a disc golf course for some friendly competition. Lose yourself in nature's embrace, breathe in the fresh coastal air, and create cherished moments with your loved ones.
Newport, with its Best Oregon Beaches, offers a harmonious blend of attractions and beginner-friendly activities, ensuring that everyone can enjoy the coastal splendor. So, grab your sun hat, slather on the sunscreen, and get ready to bask in the warmth of Newport's hospitality and the breathtaking beauty of its beaches. Your Oregon coast adventure awaits!
Gleneden Beach
Experience the allure of Gleneden Beach, one of the Best Oregon Beaches, located between Lincoln City and Depoe Bay. With its peaceful state recreation area, pristine shoreline, and abundant wildlife, this hidden gem offers a serene escape for those seeking the beauty of the Oregon coast.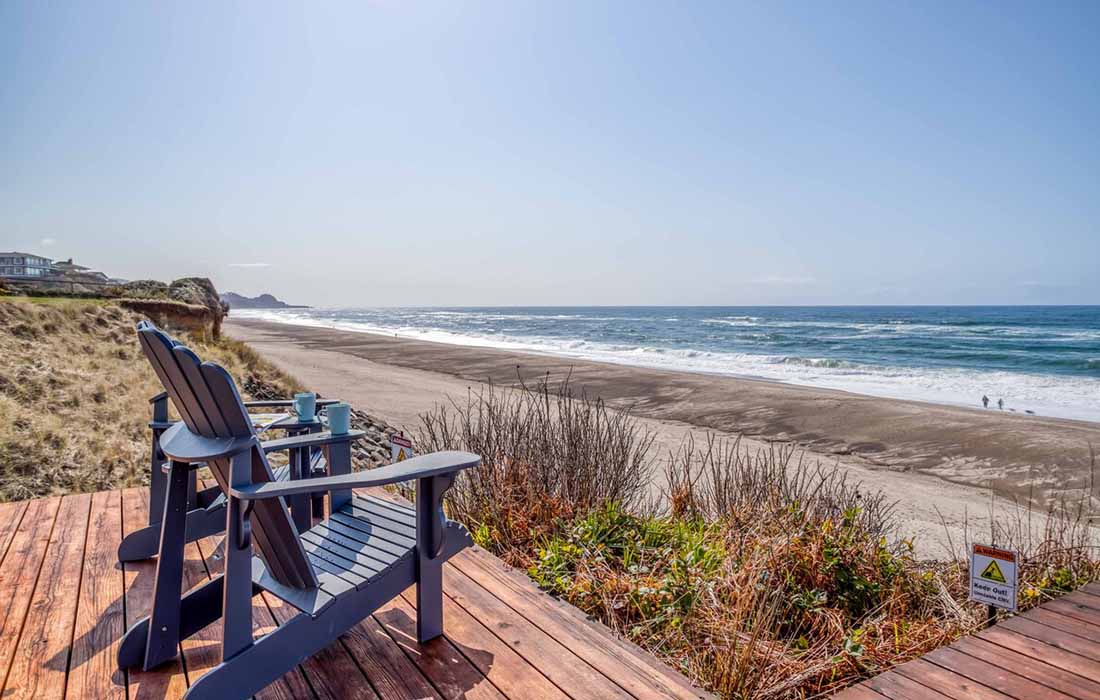 Gleneden Beach is renowned for its quiet charm, making it an ideal destination for a peaceful getaway. As one of the Best Oregon Beaches, it provides a less developed atmosphere, allowing visitors to escape the crowds and embrace a sense of tranquility. Spot seals and admire the impressive ocean cliffs that grace the landscape, immersing yourself in the natural wonders that surround you.
Explore the beach's serene state recreation area by following the walking trail, taking in the picturesque vistas as you stroll along the shore. A small picnic area invites you to pause and savor the breathtaking surroundings. It's a hidden oasis that showcases why Gleneden Beach is part of the Best Oregon Beaches collection.
For those seeking an extended stay, the nearby Salishan Spa and Golf Resort offers inviting accommodations with ocean views. Nestled within this coastal paradise, the resort boasts an entire 18-hole golf course, ensuring that guests can indulge in leisurely pursuits while basking in the coastal ambiance. Gleneden Beach is considered one of the Best Oregon Beaches for an unforgettable and rejuvenating vacation.
Just a short distance from Lincoln City, Gleneden Beach's extensive shoreline and enchanting setting amidst pine forests provide a remarkable backdrop. Nature enthusiasts will relish the opportunity to explore the salt marshes of the Siletz Bay National Wildlife Refuge, engaging in kayaking and hiking adventures that offer a deeper connection with the local ecosystem. It's an opportunity to immerse yourself in the natural wonders that define the Best Oregon Beaches.
Visit local bakeries, breweries, and seafood restaurants that epitomize coastal flavors. Don't miss the chance to see Oregon's oldest glassblowing studio and meander through charming shops that add to the town's allure. Gleneden Beach truly captures the essence of the Best Oregon Beaches experience, where natural beauty, tranquility, and coastal charm converge. Gleneden Beach is one of the Best Oregon Beaches, where serenity, natural wonders, and unforgettable moments await. It's time to escape to this coastal haven and immerse yourself in the splendor of the Oregon coast.
Gold Beach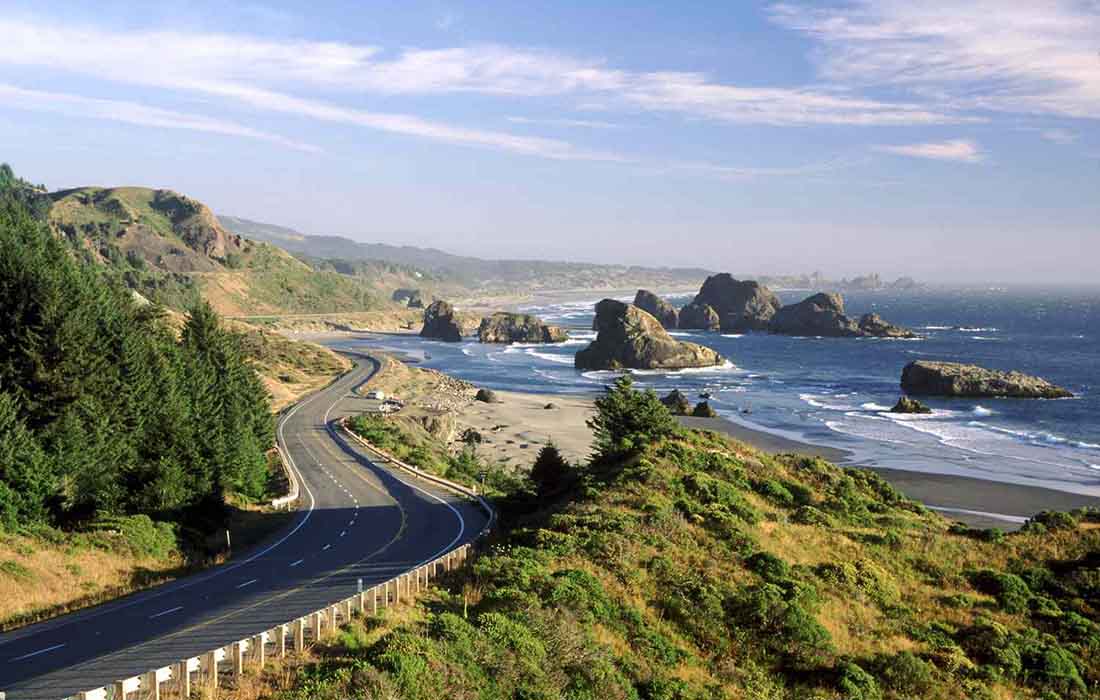 Situated 34 miles north of California, Gold Beach is a gateway to adventure with its captivating surroundings and is one of the best Oregon beaches you may want to consider. Close to Rogue River-Siskiyou National Forest and Cape Sebastian State Scenic Corridor, it offers striking views of Oregon's rocky coastline. Thrilling boat tours on the Rogue River provide excitement, while the uncrowded gray sands stretch for miles at Otter Point State Recreation Site and South Beach. Gold Beach has a rich past linked to the 1853 discovery of valuable ore. It has also become a preferred fishing spot for renowned anglers like Jack London.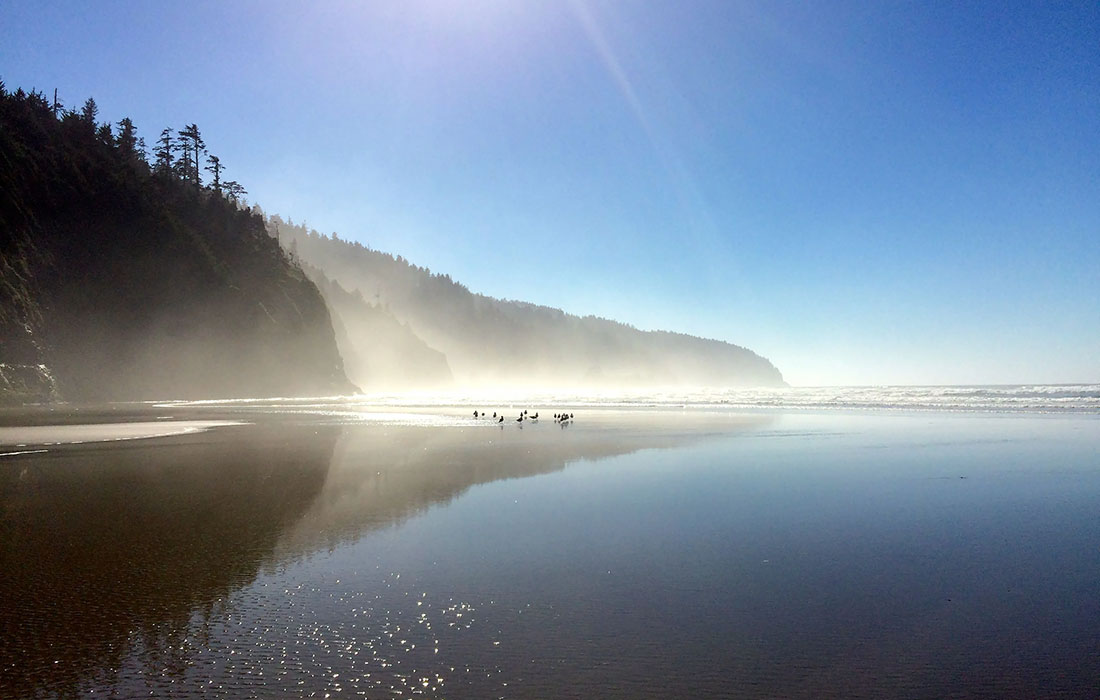 For relaxation, Cape Sebastian State Park, just 7 miles south, offers expansive views from California to Cape Blanco. Wander the 1.5-mile trail and spot whales from December to April. Gold Beach's boat tours offer exciting adventures on Oregon's wildest river, full of wildlife. For a more wonderful experience on the beach, visit Gold Beach, one of the best Oregon beaches.
Pacific City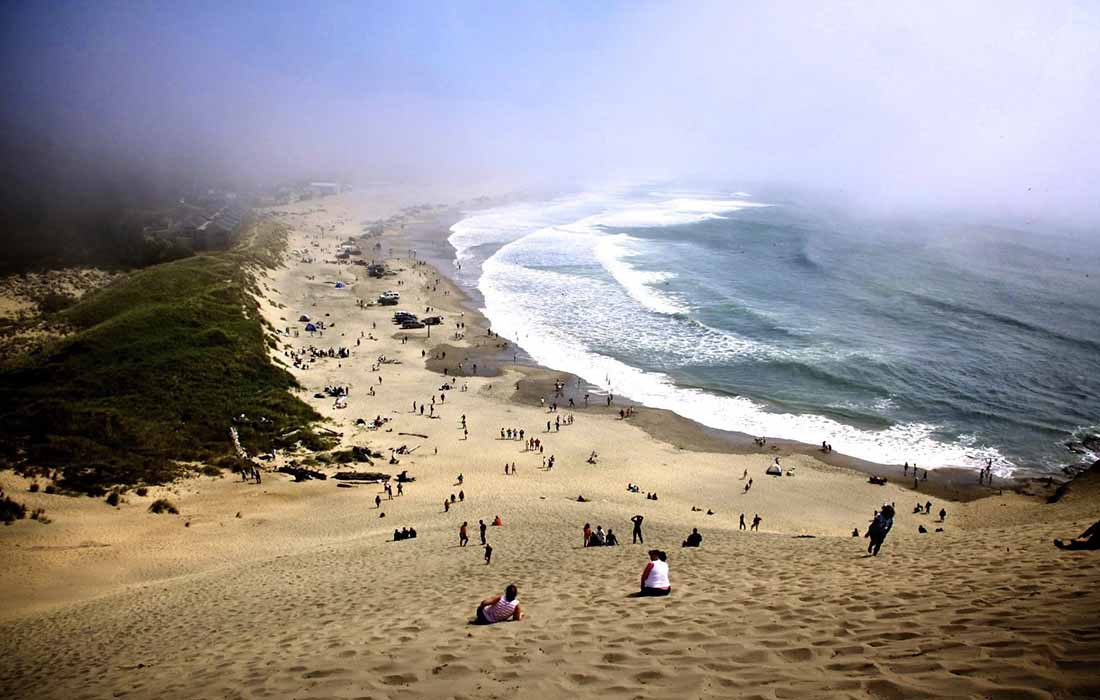 Located on the northwestern coast of Oregon, Pacific City is a magnet for those who love the outdoors and the beach. With three different places to access the beach, visitors have plenty of exploring options. Bob Straub Park has a scenic route along the Big Nestucca Spit, while Pacific Avenue's end allows driving on the dunes. Cape Kiwanda Park, the busiest access point, has handy parking and facilities.
Inside Cape Kiwanda, the Marine Gardens exhibit striking sandstone structures and deep tide pools full of sea creatures. Pacific City is famous for beachcombing, kayaking, bird watching, crabbing, and more.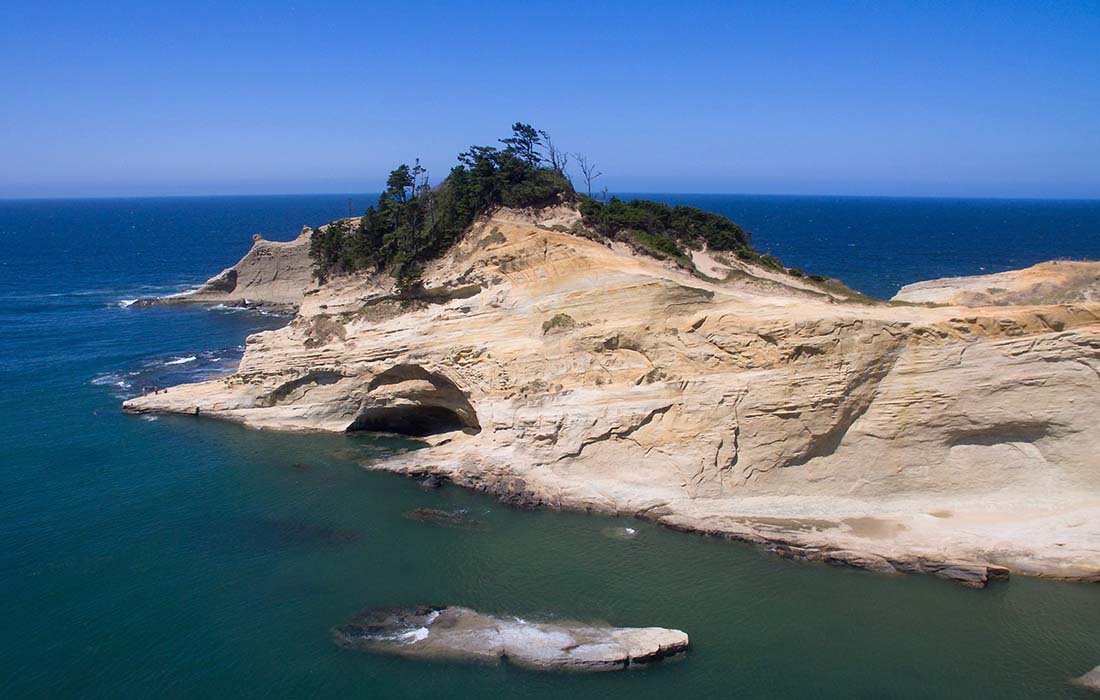 The unique sandstone structures of Cape Kiwanda set it apart from other capes on the Oregon coast. Nestucca Bay National Wildlife Refuge offers stunning views and the chance to see rare Semidi Islands Aleutian cackling geese. Bob Straub State Park's wide beach is ideal for long walks by the sea. Indeed, Pacific City will give you one of the best Oregon beaches.
Neskowin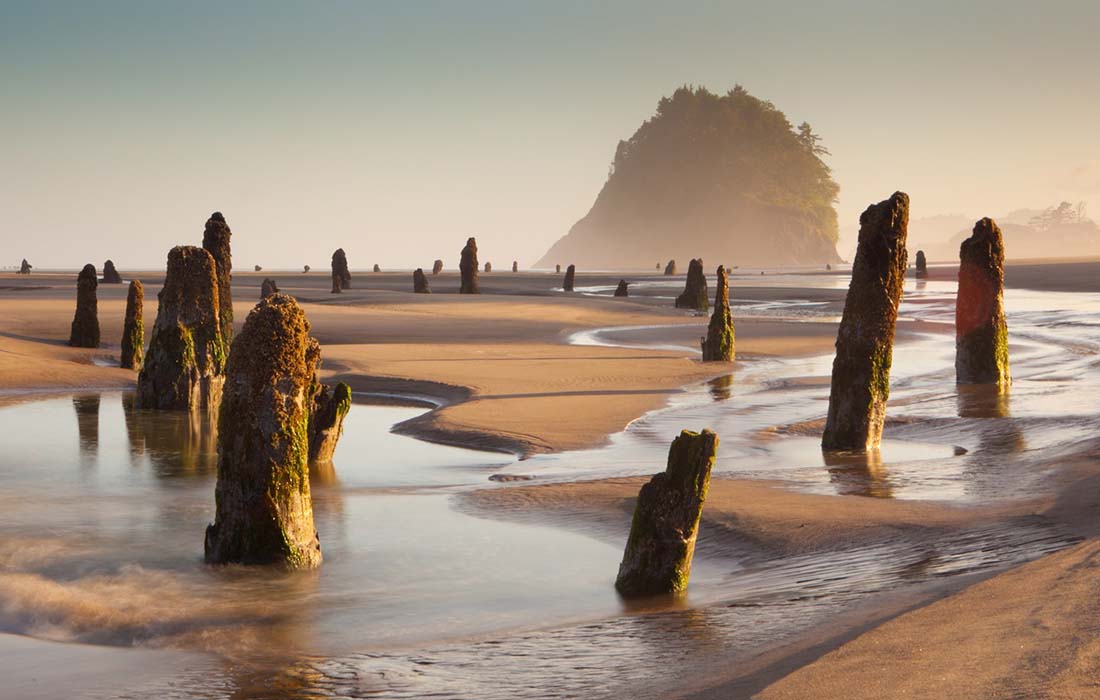 Neskowin, a small and enchanting town along the Tillamook Coast, amazes its visitors with its extraordinary beauty. Its namesake beach is unique due to a remarkable natural occurrence: a 2,000-year-old petrified forest, known as the "Ghost Forest," reveals itself at low tide. Over at the eastern edge, you'll find Proposal Rock, near where the Neskowin and Kiwanda creeks merge, forming a captivating spectacle as they flow out to the sea.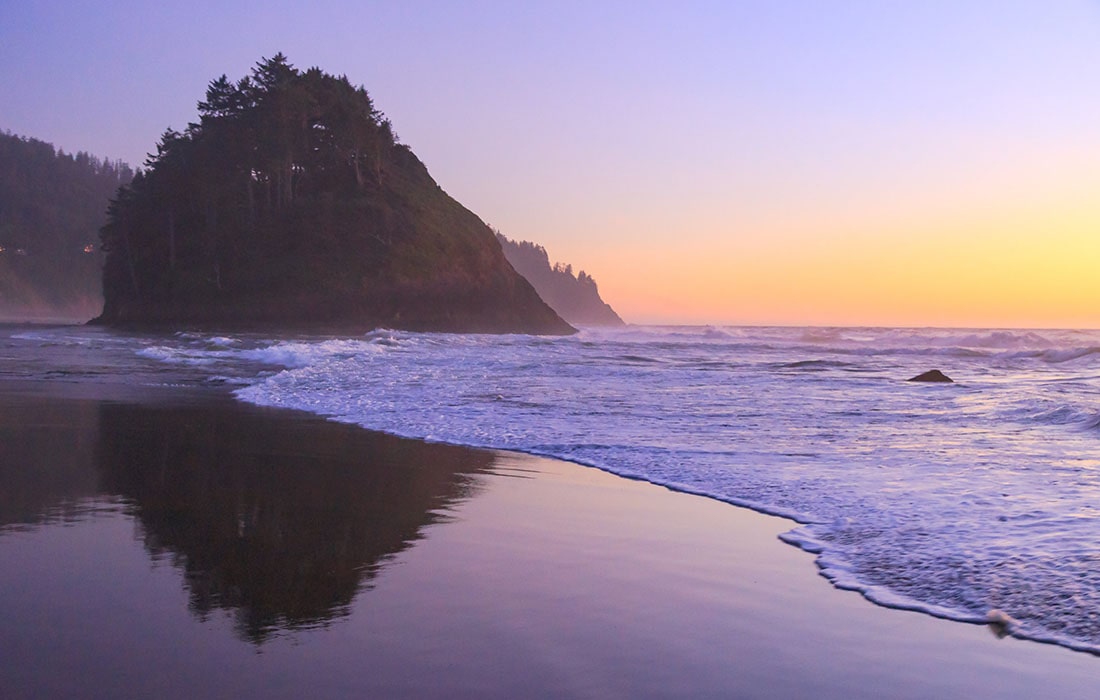 Dedicating time to absorbing the awe-inspiring surroundings of Neskowin Beach is a treat for the senses. For those seeking additional exploration, a trip southward to Hart's Cove and Cascade Head reveals more natural wonders, including diverse wildlife and wildflowers. However, to protect the area's fauna and flora, it's crucial to note that these locations are off-limits from January 1 to July 15 each year.
Rockaway Beach
Rockaway Beach, located along the stunning Oregon Coast, stands as one of the Best Oregon Beaches, capturing the hearts of families with its expansive golden sands and an impressive seven miles of picturesque coastline. With each stroll by the Pacific Ocean, visitors are greeted by the thrill of discovering unique seashells and glistening glass gems, making beachcombing an extraordinary adventure.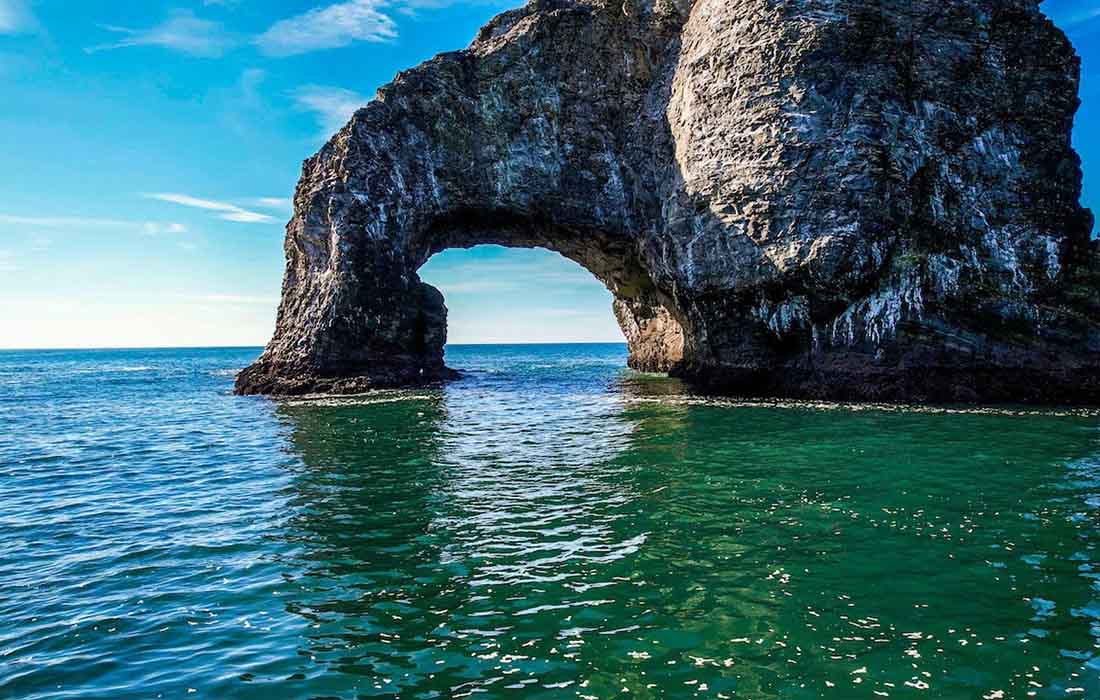 Keep an eye out for the rare Japanese glass floats that occasionally wash ashore, adding a touch of wonder to this coastal paradise. The rocky regions of Rockaway Beach reveal inviting tide pools, where vibrant marine life can be observed, immersing visitors in the captivating world beneath the waves.
Beyond the attraction of beachcombing, Rockaway Beach offers various outdoor activities that cater to all ages and interests. From fishing to hiking, kite flying to bird watching, there is no shortage of adventures to embark on. And not to forget the historic steam engine train, which delights both young and old with fun, scenic rides between Rockaway Beach and Garibaldi, adding a touch of nostalgia and excitement to the coastal experience.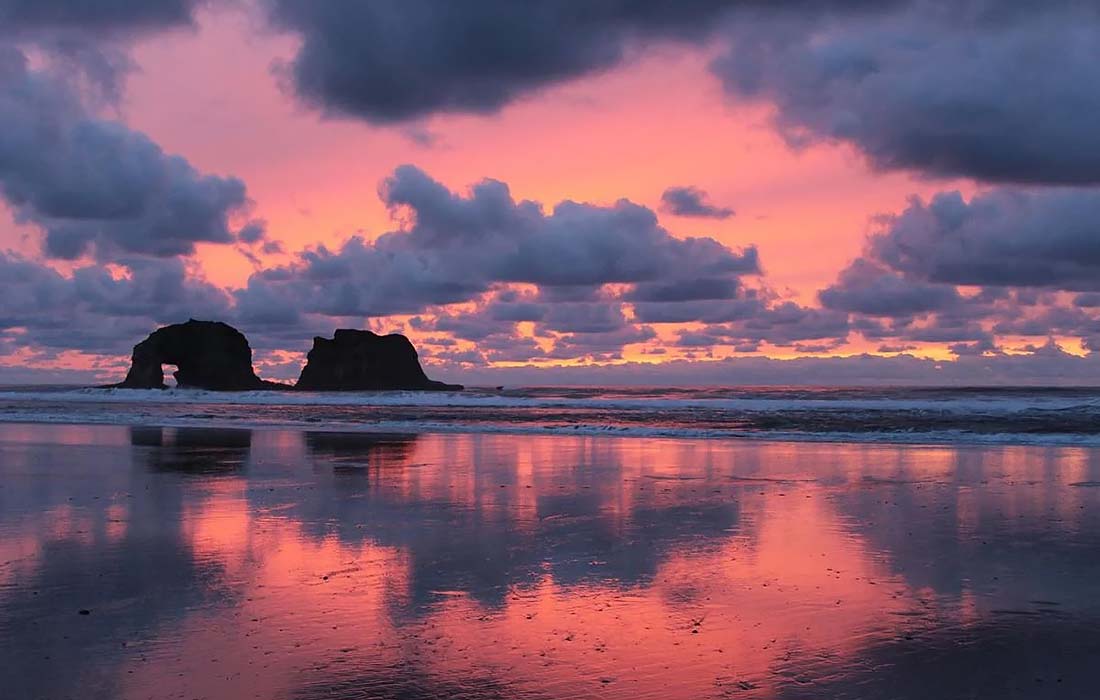 With nearly 20 access points to its extensive beach, Rockaway Beach ensures abundant opportunities for visitors to flounder in the calm beauty that defines the Best Oregon Beaches. Whether you're seeking moments of serenity, exciting outdoor pursuits, or simply a chance to connect with nature, Rockaway Beach welcomes you with open arms. So, grab your beach essentials and engage yourself in the coastal magic that awaits. Rockaway Beach is truly one of the Best Oregon Beaches, a place where memories are made and dreams come alive.
Best Recommendations
If you're looking for the ultimate coastal journey, Oregon is the destination that will exceed your expectations with its breathtaking scenery and expansive coastlines. As one of the Best Oregon Beaches, this Pacific Northwest gem offers a diverse range of landscapes, ensuring that every beach lover finds their perfect spot, whether it's a family-friendly destination, a resort with top-notch amenities, or a beach boasting crystal-clear waters.
For a memorable family getaway, Cannon Beach and Newport are top recommendations. Cannon Beach is renowned for its safety measures and attentive lifeguards, making it an ideal choice for swimming, surfing, and exploring marine life. Meanwhile, Newport is brimming with kid-friendly activities, including the renowned Oregon Coast Aquarium and inviting beaches like Nye Beach and Agate Beach.
If tranquility is what you seek, make sure to visit Manzanita Beach and Gleneden Beach. Manzanita boasts an impressive seven-mile stretch of pristine shoreline and is adjacent to Nehalem Bay State Park, offering the perfect balance of relaxation and adventure. Gleneden Beach, on the other hand, provides a peaceful sanctuary where seal sightings are common, and picturesque ocean bluffs set the scene for serenity.
Adventure seekers will find their paradise in the Oregon Dunes National Recreation Area and Yachats. The dunes offer endless opportunities for thrill-seekers with sandboarding, hiking, and fishing activities. Yachats, known for its dramatic landscapes and scenic trails, invites exploration of unique geological wonders such as Devil's Churn and Thor's Well.
If you're craving a vibrant beach scene or a chance to encounter wildlife, Seaside and Oceanside are excellent choices. Seaside buzzes with recreational activities, while Oceanside offers a unique experience for agate hunters and the possibility of wildlife sightings. These destinations exemplify why they are part of the Best Oregon Beaches collection.
No matter what you're seeking in a beach vacation, whether it's tranquility, adventure, family-friendly activities, or a mix of everything, Oregon's coastline delivers an unforgettable experience. Each beach, part of the Best Oregon Beaches selection, possesses its distinct charm and attractions, ensuring that your beach expectations are met and surpassed. So, embark on a coastal adventure along Oregon's magnificent shores and let the magic of the Best Oregon Beaches enchant you at every step.
FAQs
Which beaches have the most transparent water?

Cannon Beach, Manzanita, and Bandon are recognized for their clear waters in Oregon.

What are the average water temperatures on Oregon's beaches?

Water temperatures on Oregon's beaches usually range from 50°F to 60°F, with warmer temperatures in the summer.

What is the best time of year to visit Oregon beaches?

The best time to visit Oregon beaches is during the warm months of July through early September.

Are there any beaches in Oregon that are dog-friendly?

Many of Oregon's beaches, such as Cannon Beach and Manzanita, are dog-friendly with leash laws.

What activities do Oregon beaches offer?

Activities on Oregon beaches include swimming, surfing, fishing, hiking, beachcombing, and wildlife viewing.

What should I bring to the Oregon beaches?

Bring layers for variable weather, sunscreen, water shoes for tide pools, and a camera when visiting Oregon beaches.
For more, do check out our other sections at travel-exotica.com
Have Suggestions for us? feel free to mail us at [email protected]