Wichita Mountains
If you're interested in discovering Oklahoma's wildlife, natural beauty, and beautiful camp grounds, then Wichita Mountains is a great place. It offers camping and mountain park campgrounds with excellent mountain view campgrounds. Anyone who has the chance to visit this location is in for a treat because it has a fascinating history and a generally vibrant atmosphere with beautiful camping sites.
However, given that the main goal is to protect the animals' natural habitat, there aren't many camping choices inside the wildlife preserve. The Doris Campground and Mountain Creek Campground, which are in the middle of the property, are worth checking out if you're seeking to stay nearby.
This guide will help you make the most of your trip.
Mountains have a profound, everlasting, and deep allure. Wichita Mountains camping, Wichita Mountains Wildlife Refuge, campground RV, the ancient granite mountains, wildlife conservation, wildlife service, and other attractions entice visitors and residents to visit this magnificent area in southwestern Oklahoma. A journey to Oklahoma isn't complete until you see the Wichita Mountains.
This location is ideal if you reside in the US and are looking for a weekend escape or a mountain retreat. Everything an outdoor enthusiast would want to do to get an adrenaline rush is available at Wichita Mountains.
Wichita Mountains Camping
You may be wondering what Wichita Mountains camping is all about. Is it like traditional camping? What should you expect? Well, the great thing about Wichita Mountains camping is that there is a little bit of everything.
You have your choice of primitive camping, where you'll be roughing it under the stars, or you can choose a more comfortable option with a campsite that has running water and electrical hookups.
No matter what type of camping you choose, you'll be treated to some beautiful scenery and plenty of opportunities for outdoor recreation. So pack your bag and get ready for an adventure!
This place offers a little bit of everything. Depending on your inclination, you may have an action-packed or calm break, go rock climbing on the rough mountain face, or see animals near the big plains. If you're thinking about visiting the Wichita Mountains, check out these 7 best Wichita Mountains Camping Spots.
The 6 Best Wichita Mountains Camping Spots
If you're looking for a great place to camp, the Wichita Mountains are hard to beat. With its landscapes and wildlife, it's easy to see why this area is a popular destination for campers.
But with so many options to choose from, it can be tough to figure out where to set up camp. That's why we've put together a list of the 6 best spots in the Wichita Mountains for camping. Check it out:
1. Quartz Mountain Nature Park
Quartz Mountain Nature Park is ideal for outdoor enthusiasts of all ages. Spend your days' rock climbing on Baldy Point's granite face or hiking to the summit for breathtaking views over the grassland. There's no lack of excitement at Quartz Mountain, and with so many camping possibilities, you can make a weekend out of it for the whole family.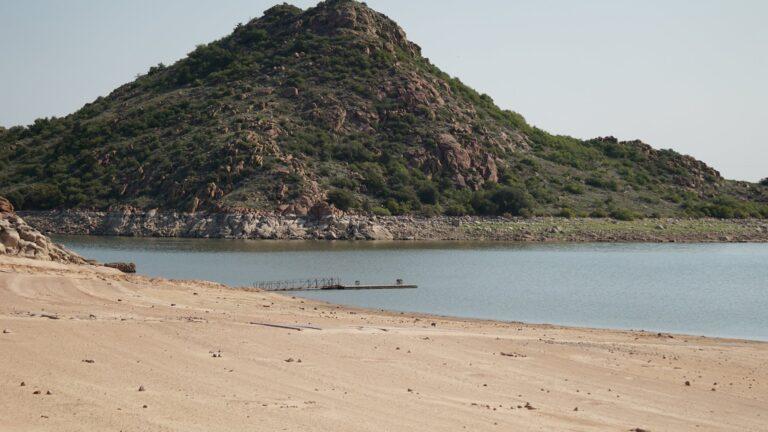 2. Elk Mountain
The northern Elk Mountain path is a moderate one-way trek of approximately 1.15 miles. It's a tough-to-arduous trek because of the wide regions of massive boulders and the towering steps and ledges to ascend. They're just a foot or two tall, so prepare for some huge steps.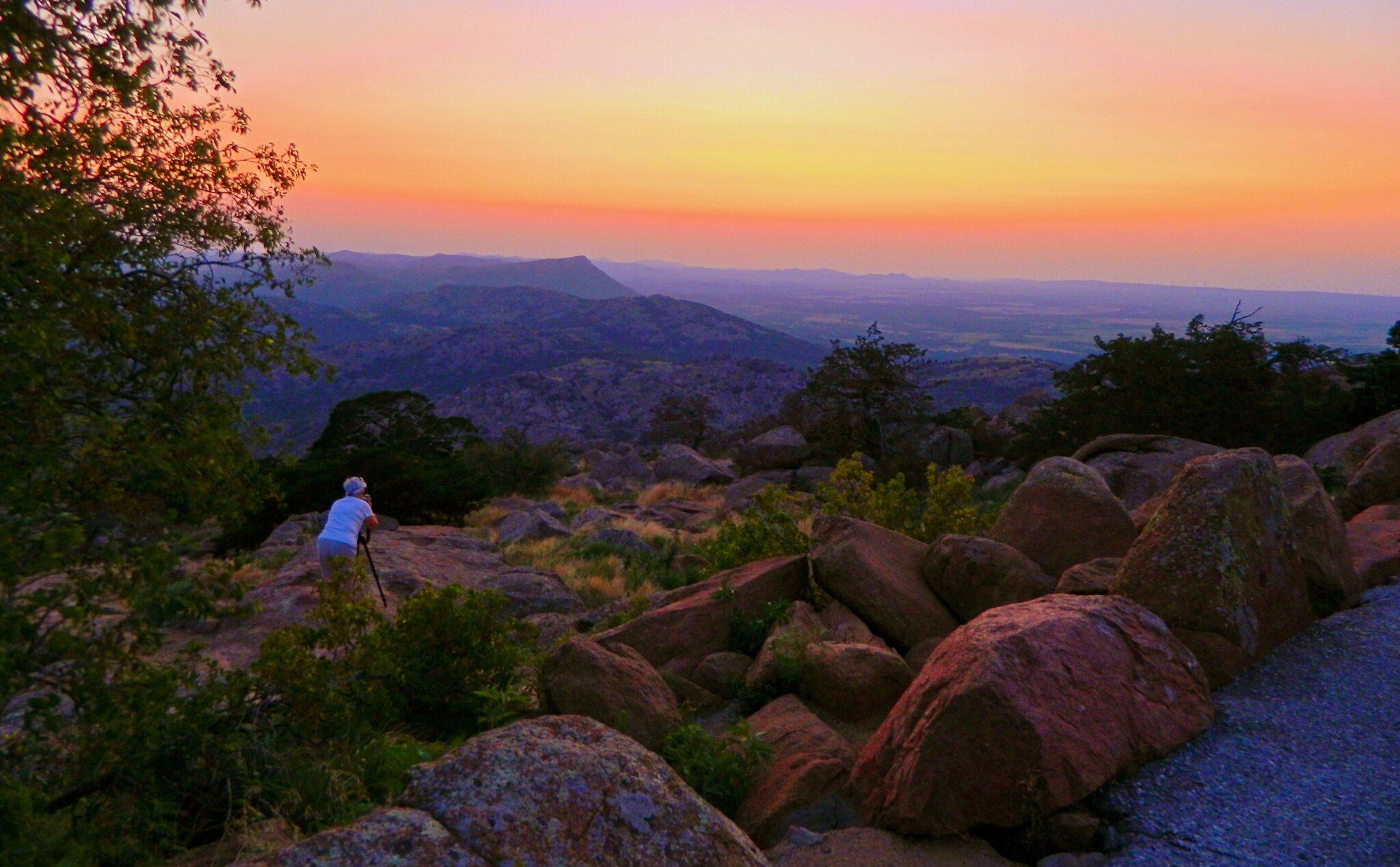 3. Medicine Park
Medicine Park, located in southwest Oklahoma, is a lovely town recognized for its unique cobblestone architecture. This "cobblestone village" is not only rich in history but also surrounded by natural beauty.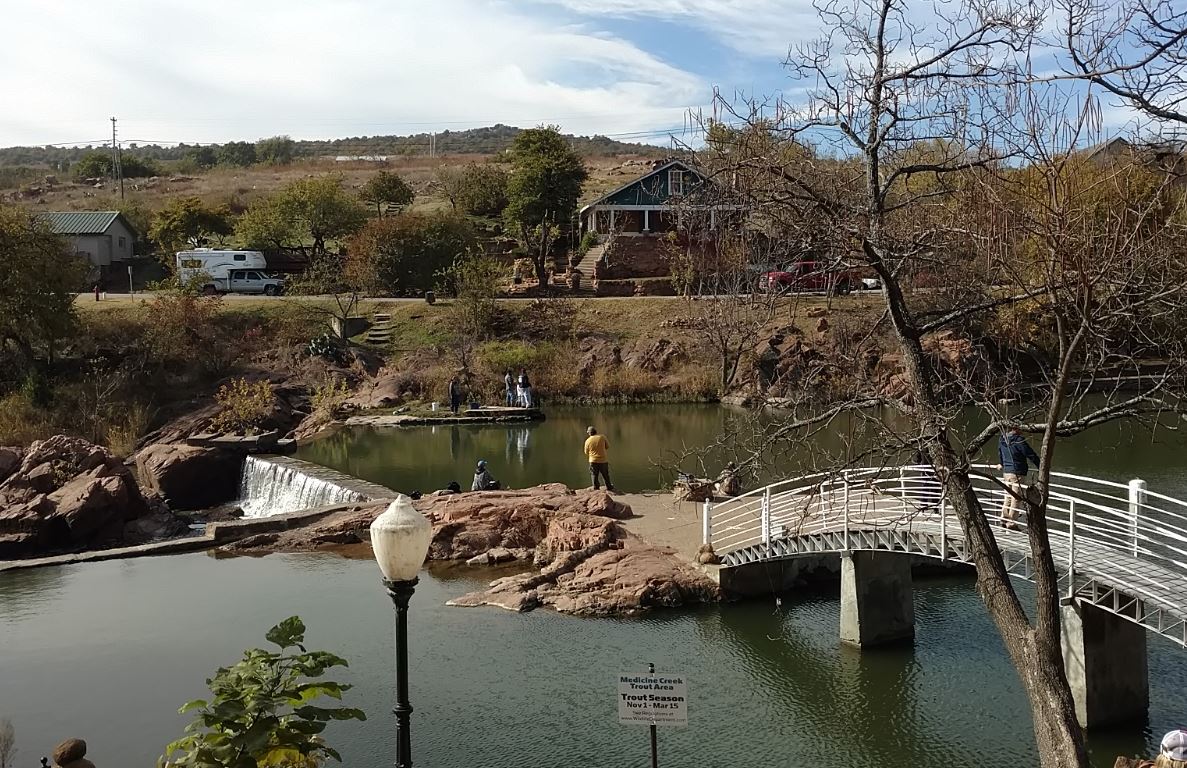 Medicine Park is a very popular outdoor recreation area. It is situated on Clear Boggy Creek, which runs through the park and offers excellent fishing.
The campground offers 32 campsites with electric hookups and water supply. These campsites are available on a first come first served basis, usually reservations are not accepted. Each campsite includes picnic tables, fire rings, and grills. A 14-day stay limit is enforced just make sure everyone gets their fair share of stay in this lovely campsite.
4. Wichita Mountains Wildlife Refuge
In southwest Oklahoma, the Wichita Mountains Wildlife Refuge is a one-of-a-kind location. The refuge, which is located between Cache and Lawton, encompasses over 59,000 beautiful acres and is home to free-roaming buffalo, Texas longhorn cattle, prairie dogs, elk, and deer. Hikers and photographers will be blown away by this place's abundance of breathtaking landscapes.
5. Mount Scott
Mount Scott is one of Oklahoma's most notable mountains, located on the eastern boundary of the Wichita Mountains Wildlife Refuge. A three-mile paved road climbs to the peak, where you may enjoy a beautiful panorama across southwest Oklahoma. You may walk outside and enjoy the scenery while rock jumping or trekking. Don't forget to bring your camera to capture the breathtaking views from Mount Scott's summit.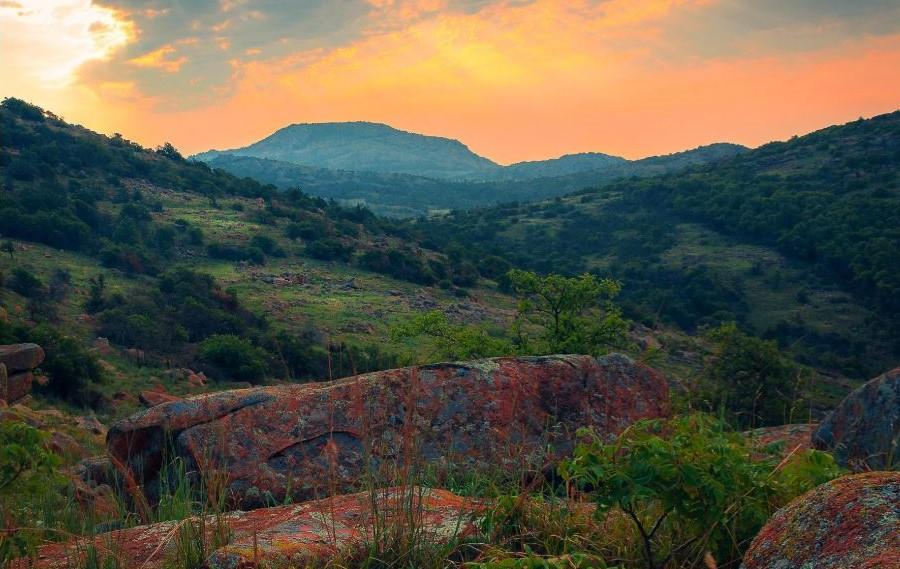 6. Red Rock Canyon
Red Rock Canyon is one of the most popular rappelling sites in Oklahoma. Visitors must bring their own ropes and gear and use the park's canyon walls at designated rappelling sites only to participate in this exciting activity. Rappelling is done at the visitor's own risk and could result in serious injury. Ropes and other gear are not available for rent or use at the park.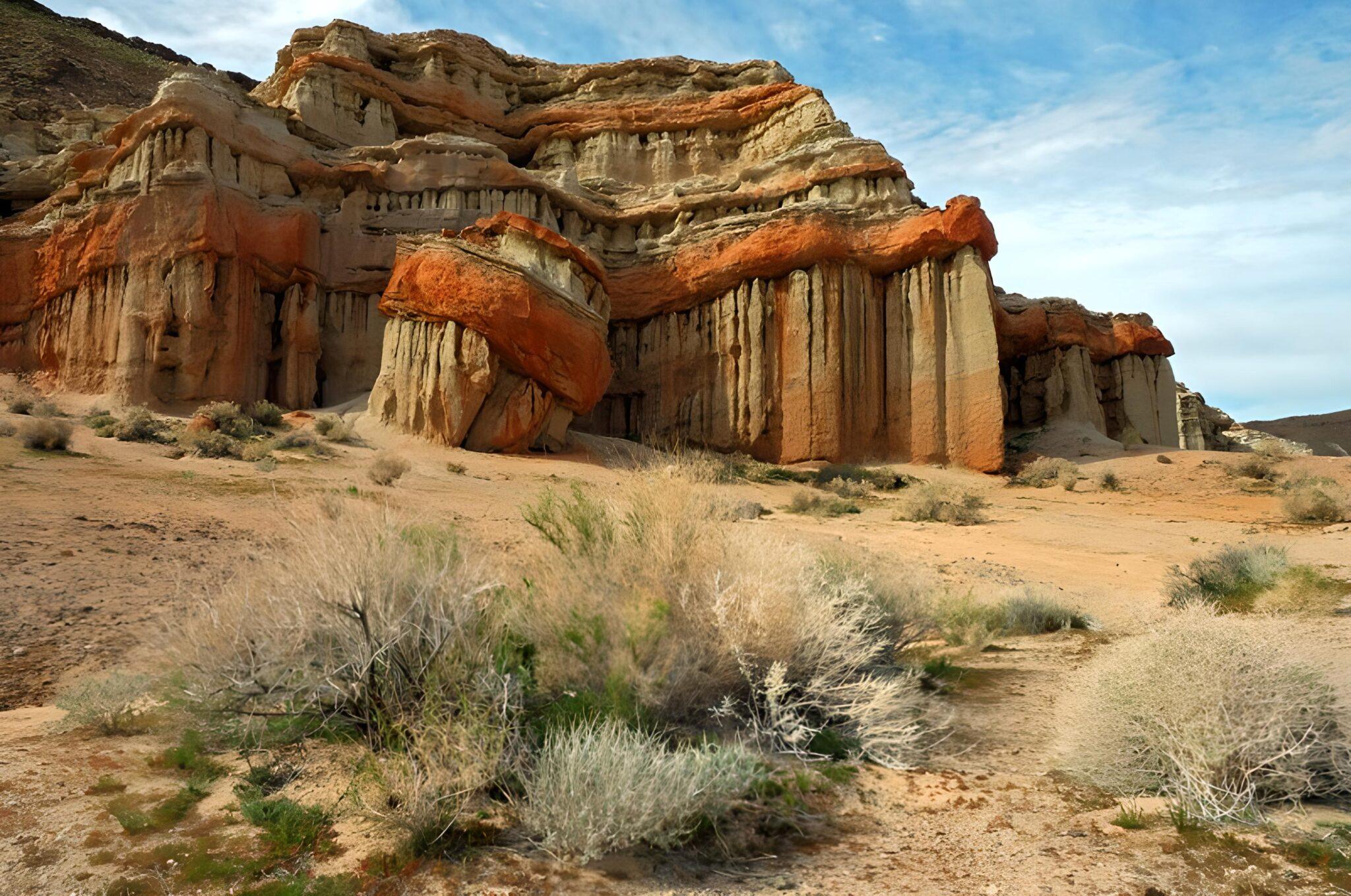 The Best Hiking Trails in the Wichita Mountains
If you're looking for some of the best hiking trails in the Wichita Mountains, you've come to the right place. We're going to show you some of our favorites.
The first trail is the Mount Scott Trail. This is a great trail for beginners because it's not too difficult and offers some great views. The second trail is the Elk Mountain Trail, which is a bit more challenging but definitely worth the effort. And the third trail is the Quartz Mountain Nature Park Trail, which is perfect for those who want to experience a little bit of everything.
The Best Camping Gear for the Wichita Mountains
So, you're all set to go to the Wichita Mountains camping! Lucky you, as it's a great place to camp. But before you go, make sure you have the right camping gear.
Some essentials that you'll need are a tent, a sleeping bag, a stove, and a first-aid kit. You might also want to bring along some extra clothes, just in case, the weather turns bad.
How to Make the Most of Your Wichita Mountains Camping Trip
Wichita Mountains camping is one of the most beautiful places in the USA, and there's so much to do and see. But before you go, there are a few things you need to know.
First of all, make sure you pack appropriately. You'll need sunscreen, insect repellent, a hat, and plenty of water while doing Wichita Mountains camping. And don't forget your camping gear!
It's best to be prepared for anything. Once you're there, take advantage of all the park has to offer. Hike the trails, swim in the lakes, and enjoy the serene beauty of nature. If you're feeling adventurous, there's also rock climbing and horseback riding.
Whatever you do, make sure to take some time to relax and soak up the natural splendor of the Wichita Mountains. It's an experience you'll never forget.
Wichita Mountains Wildlife Refuge
You may not know this, but the Wichita Mountains Wildlife Refuge is an excellent place for camping. In fact, it's one of the most popular campgrounds in the state of Oklahoma.
There are a ton of different campsites to choose from, so you're sure to find one that fits your needs. And if you're looking for a little excitement, there's plenty to be had at the Wildlife Refuge. You can go hiking, fishing, and even mountain biking.
Make sure to add the Wichita Mountains Wildlife Refuge to your list of places to camp this year!
Wichita Mountains Cabins
Here are some of the best-recommended cabin rentals in the Wichita mountains with 5 stars ratings from users, which includes mountains cabins and cabins by a lake with the best views,
1. Cheerful 2-bedroom cabin in beautiful Medicine Park!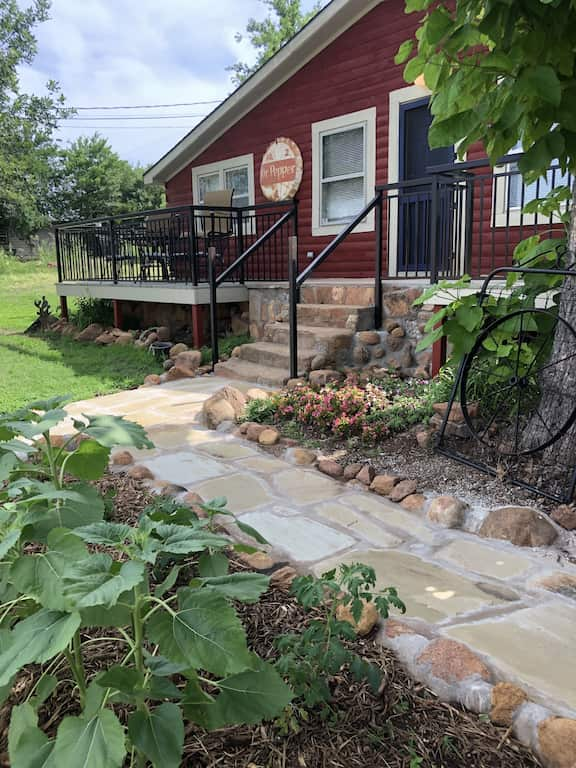 Round Rock Cabin was constructed in 1940 and was recently totally refurbished.
It's a two-bedroom, one-bathroom cottage that mixes historical elements with modern conveniences. Because this cottage is right over the creek from downtown, you can explore everything Medicine Park has to offer. Only a few feet away are charming boutiques and delectable eateries. Spend the day at the Medicine Park Aquarium, the Wichita Wildlife Refuge, and Bath Lake. Alternatively, relax on the terrace with your favorite beverage!
Check for the best deal here – Click Here
2. Knees in the Breeze – Tiny House, 1 Bedroom, 1 Bath, (Sleeps 4)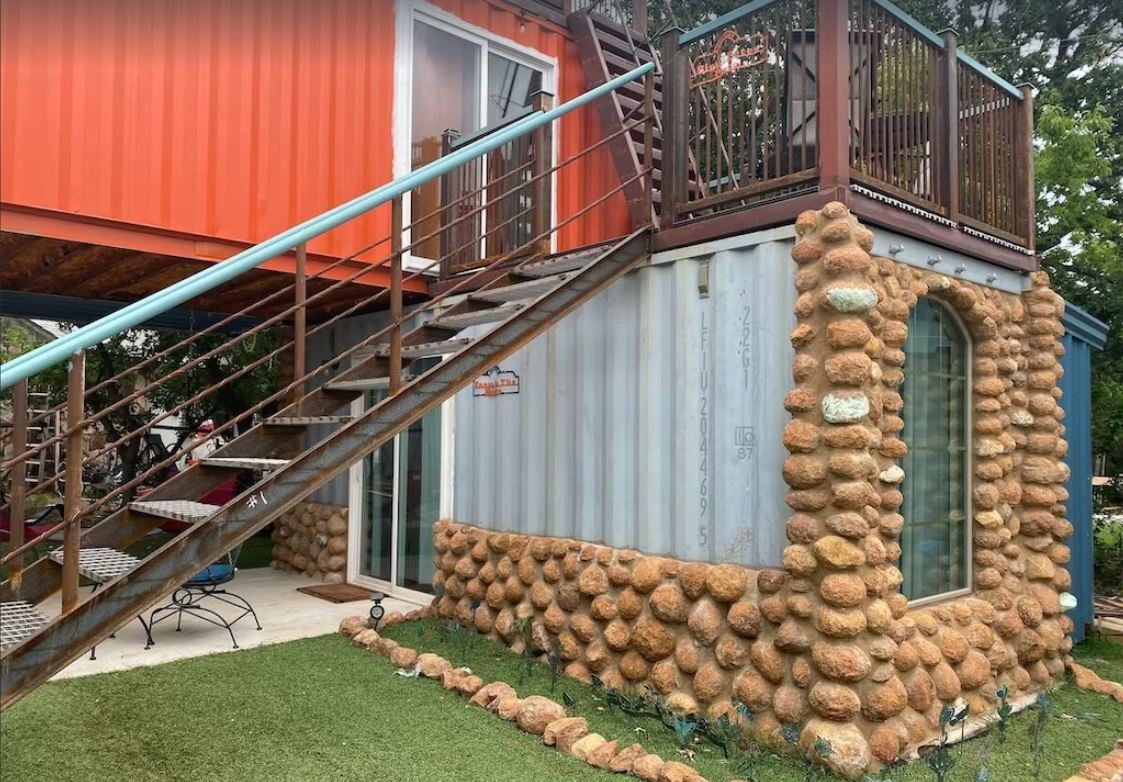 Knees in the Breeze is a little cottage on the first floor that celebrates motorcycle culture and has Medicine Park as a favorite stop. It's located under Pistol Pete's and features a secluded terrace with hammock seats. Relax in the grain bin gazebo, cook on the communal grill, or explore our charming town. We are within walking distance of shopping, restaurants, hiking paths, and Bath Lake. Unplug (no TV, but WiFi) and join us at Medicine Park's meeting place, InnHabit!
Check for the best deal here – Click Here
3. The Eagles Nest Cabin (Hot Tub)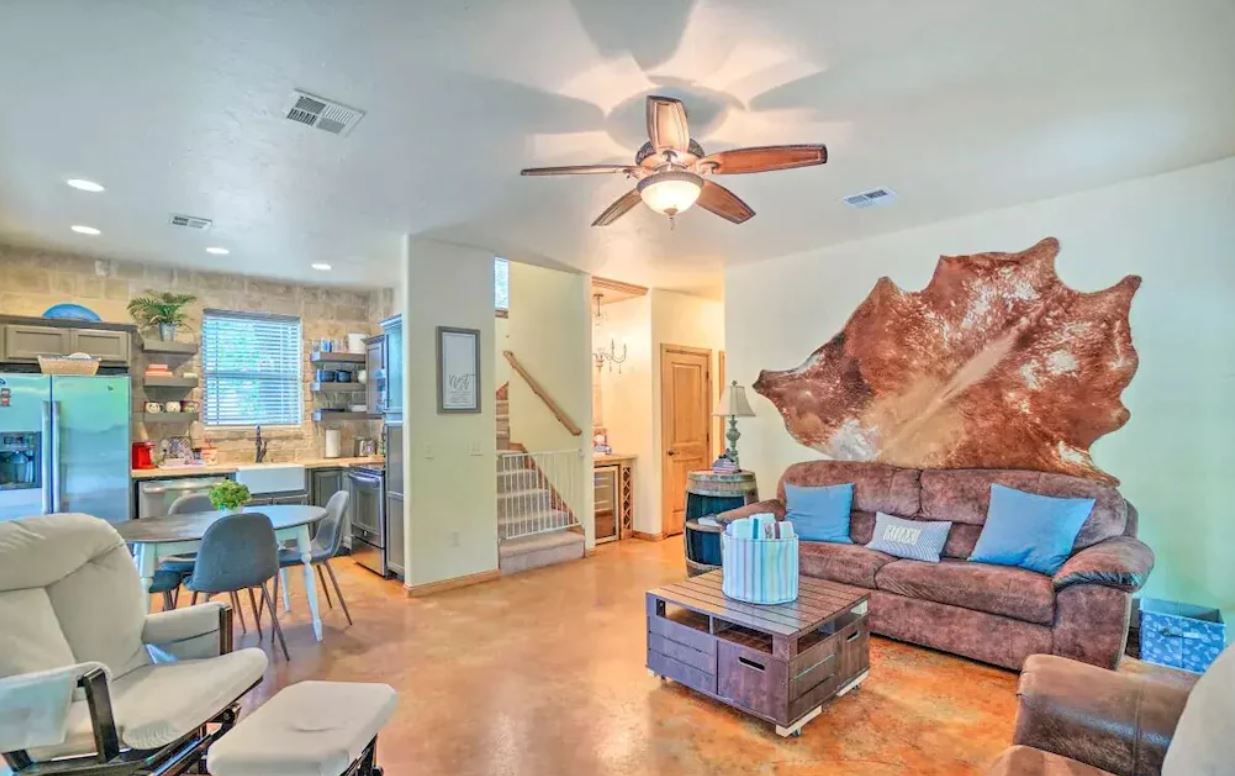 A rock inside the wall, an apron sink, butcher block cabinet tops, and stainless appliances give this cabin a rustic yet sophisticated appearance. In addition to stained concrete floors and a large rock fireplace, the master bathroom has a big soaking tub. Both the downstairs and upstairs bedrooms in the cottage have bathrooms. patio off the kitchen/dining area and a large covered porch in the front with a recently built hot tub.
Check for the best deal here – Click Here
4. Sky Kabin' with Games Room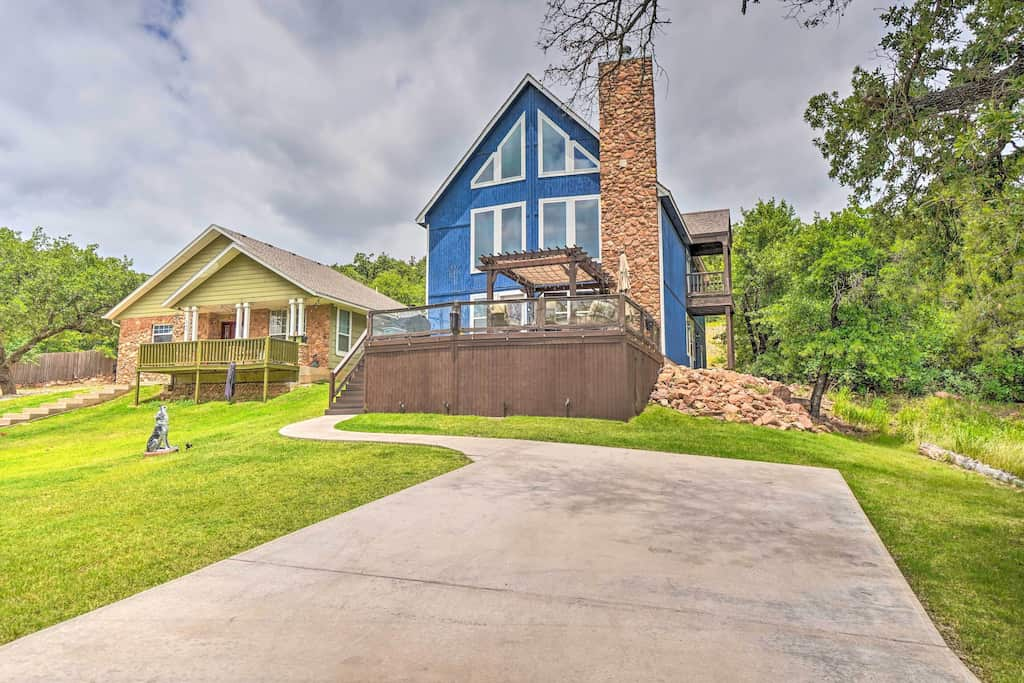 Make the best use of the fantastic amenities for a worry-free getaway — a gaming room, large deck, furnished pergola, gas grill, fire table, and jetted tub should do the trick, not to mention that your regular necessities are lovingly provided—and make the most of the amenities. Before retiring to this 3-bedroom, 2-bath cottage, climb Mount Scott for a fresh viewpoint or go fishing in Lake Lawtonka.
Check for the best deal here – Click Here
5. Hot tub/Great deck for day and night! Earthkeeper Cabin 3/2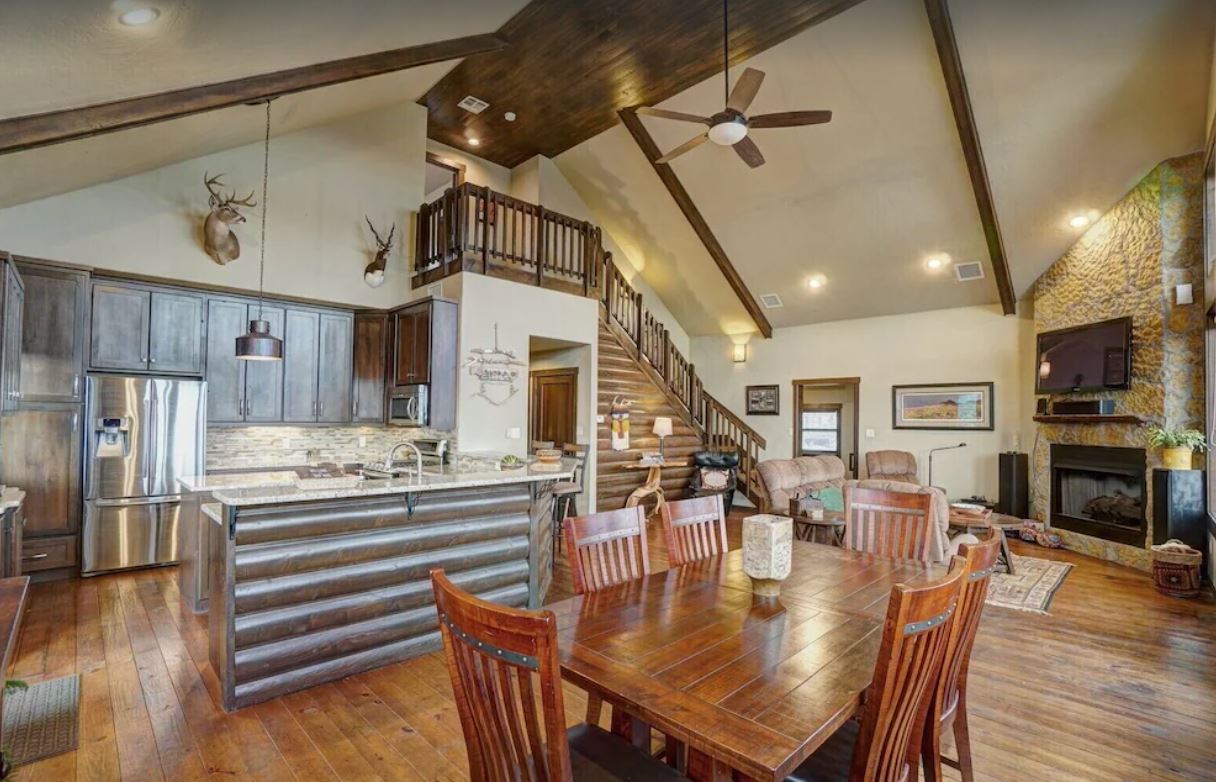 The incredible enormous wood deck now features a luxurious giant jetted Hot Tub that will be used in April 2022! The open, spacious 1999-square-foot area is perfect for intimate parties and seclusion. The Elmer Thomas Lake/dam, Mt. Scott, lovely rocks, and birds may all be seen at the Wichita Wildlife Refuge. From our backyard, across the street, or down the hill, there are hiking and mountain biking routes. These cabins offers a tranquil mental getaway from the bustling outside world. You may stroll around the charming shops, eateries, and ice cream parlors that make up the town's modest downtown. On our porch or during a stroll to the prayer flags on Bear Mountain, the sunsets are truly at their best.
Check for the best deal here – Click Here
Get going…
Imagine waking up to the sun spilling through the trees and the fresh smell of the air. With a Wichita Mountains camping trip, you can make this dream a reality. Also, if you'd like to book an Airbnb, check here.
Now you know everything you need to know and what to bring with you to make the most out of your Wichita Mountains camping. So grab your tent and get ready for an adventure!
Wichta Mountains FAQs
How much does it cost to camp in the Wichita Mountains?
it costs around $28-$40/night to camp in the Wichita mountains.
What towns are close to the Wichita Mountains?
Lawton is the nearest town to the Wichita Mountains National Wildlife Refuge. Oklahoma City and Wichita Falls, are major cities within normal driving distance of the refuge.
How much does it cost to visit the Wichita Mountains Wildlife Refuge?
It's free. It is managed by the US Fish and Wildlife Service, and there is no admission fee.
What is Wichita Mountains in Oklahoma known for?
The Wichita Mountains, located in southwestern Oklahoma, are known for their unique geology, diverse wildlife, and scenic beauty. The mountains are part of the Wichita Mountains Wildlife Refuge, which covers over 59,000 acres and is home to a wide range of animals. Additionally, the Wichita Mountains have cultural significance as they were once home to several Native American tribes, and visitors can explore historic sites and learn about the area's rich history. Overall, the Wichita Mountains are a treasured natural resource and a must-visit destination for anyone exploring Oklahoma.
What animals are in the Wichita Mountains?
The Wichita Mountains, located in southwestern Oklahoma, are home to a diverse range of wildlife. Some of the animals that can be found in the area include American bison, Rocky Mountain elk, white-tailed deer, wild turkeys, prairie dogs, coyotes, bobcats, and black bears. The mountains are also home to several bird species, such as bald eagles, golden eagles, and peregrine falcons.
What is the highest point in the Wichita Mountains?
Mount Pinchot, at 2,476 feet (755 meters) above sea level, is the highest point in the Wichita Mountains Wildlife Refuge in Southwest Oklahoma.
Can you swim in the Wichita Mountain Wildlife Refuge?
Swimming is not allowed. According to the refuge's website, only wading is permitted when fishing.
For more, do check out our other sections at travel-exotica.com