Lauterbrunnen: The Most Beautiful Village of Switzerland
Lauterbrunnen Valley is one of the most beautiful villages in Switzerland, and there are lots of things to do here. Nestled in the Alps, it offers stunning views of snow-capped peaks and pristine valleys. With its picturesque homes and idyllic setting, it is the perfect place to escape the hustle and bustle of everyday life.
It's a small village in the Swiss Alps that is known for its beauty and natural wonders. Nestled in the Swiss Alps, this village is a nature lover's paradise with its towering waterfalls such as Staubbach falls and trummelbach Falls, lush green meadows, and snow-capped peaks.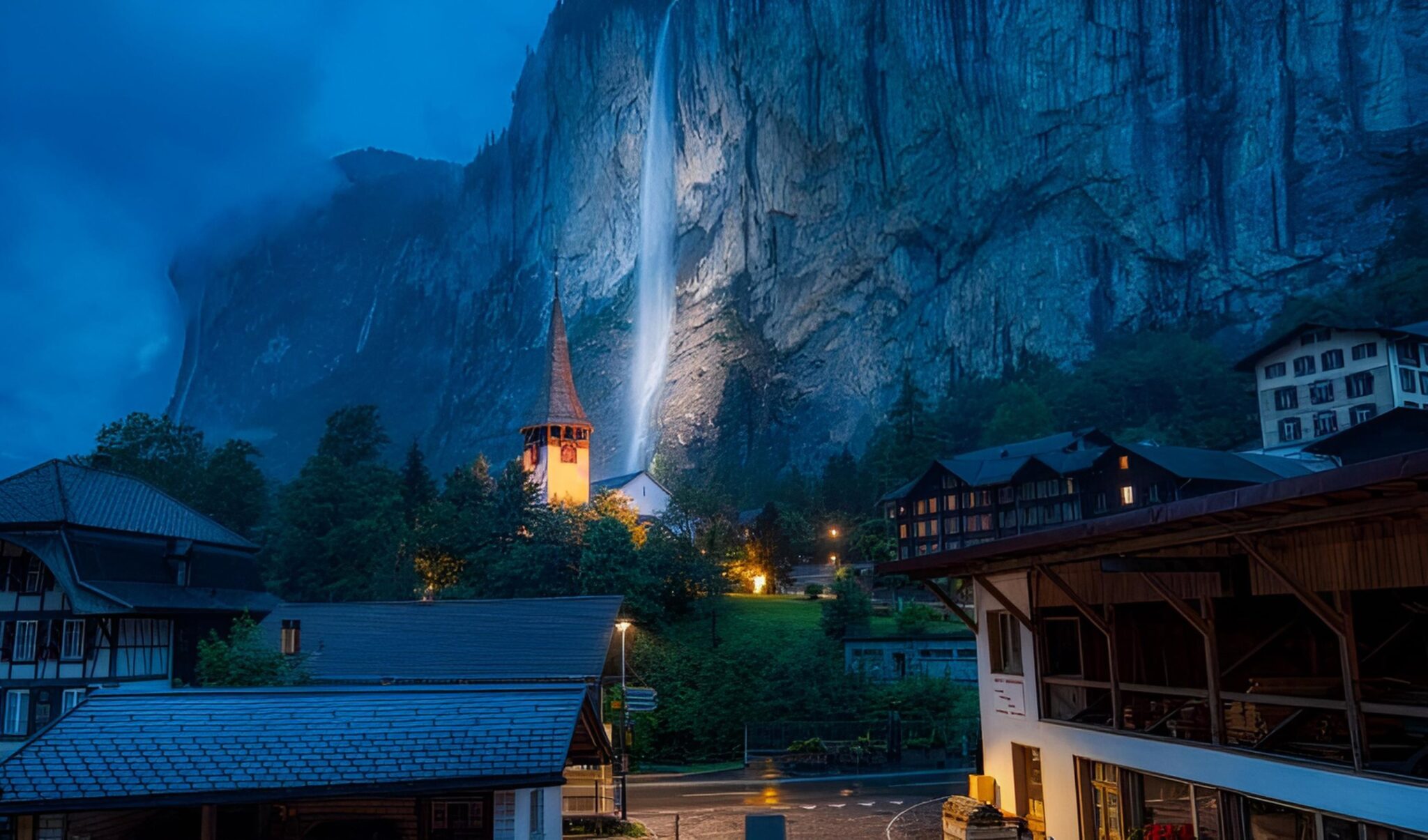 If you're looking for a breathtaking Alpine village to visit in Switzerland, look no further than Lauterbrunnen. With its waterfalls and stunning mountain scenery, this little town is sure to charm you. Check out some of the best things to do while you're there, and don't forget to camp in the surrounding area for an even more immersive experience!
In addition to its natural beauty, it is also home to a number of world-class camping sites. It is the perfect place to enjoy a vacation. Whether you're looking for a relaxing place or an action-packed adventure, Lauterbrunnen has something for everyone.
Things to do in Lauterbrunnen
Lauterbrunnen is famous for its waterfalls and mountain scenery. If you're looking for a place to get away from your busy routine and enjoy some of the most beautiful scenery in the world, Lauterbrunnen is the perfect place for you. Here are just a few of the things you can do while you're in town.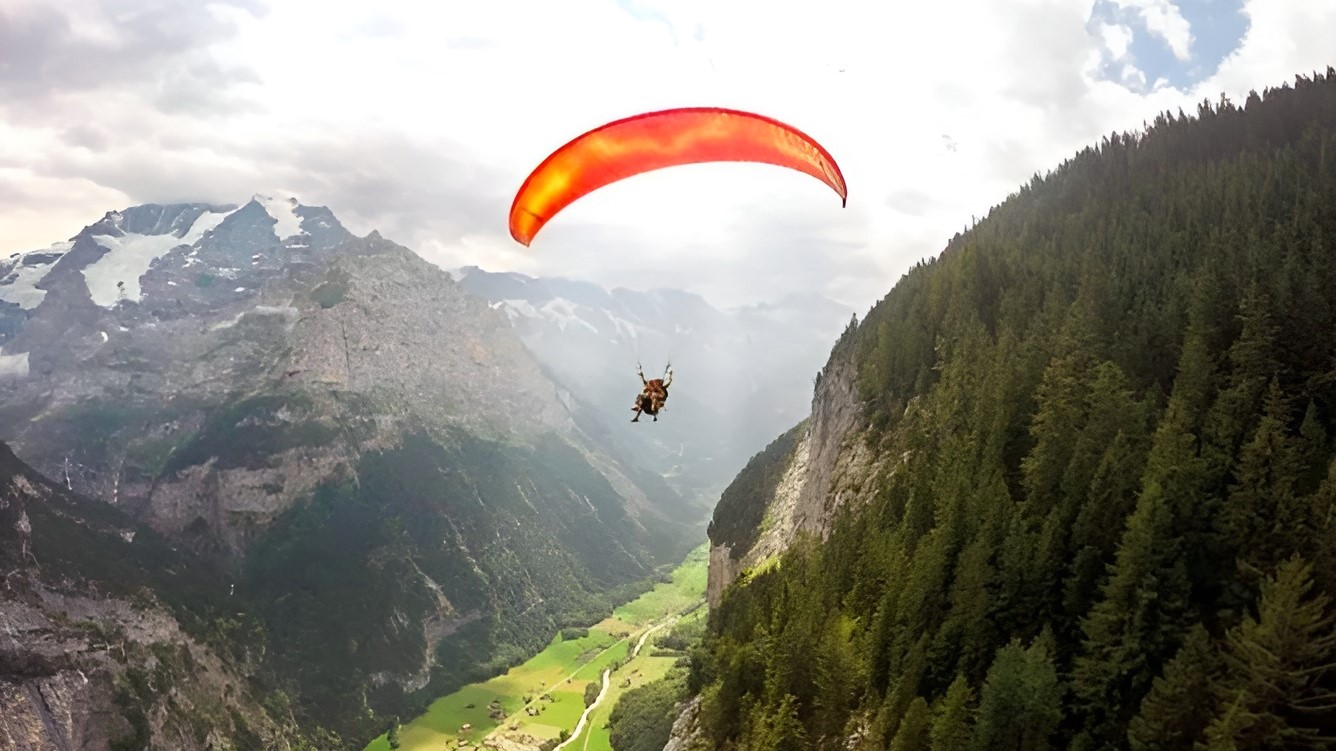 Camping in Lauterbrunnen
Lauterbrunnen is a camping paradise for those who love the outdoors. With its beautiful scenery and several camping opportunities, it's the perfect place to set up camp and enjoy all that nature has to offer. There are numerous camping sites scattered throughout the area, so you're sure to find one that suits your needs.
The best time to go camping in Lauterbrunnen is from June to September when the weather is warm and the days are long. However, if you're looking to avoid crowds, September is your best bet.
Explore the Hiking Trails
Lauterbrunnen is surrounded by hiking trails of varying difficulty levels, so there's something for everyone. One of the most popular trails is the hike up to Mürren, a small mountain village with stunning views of the valley below. If you're feeling ambitious, you can even continue on from Mürren to the summit of the Schilthorn, which is one of the highest peaks in the Bernese Oberland.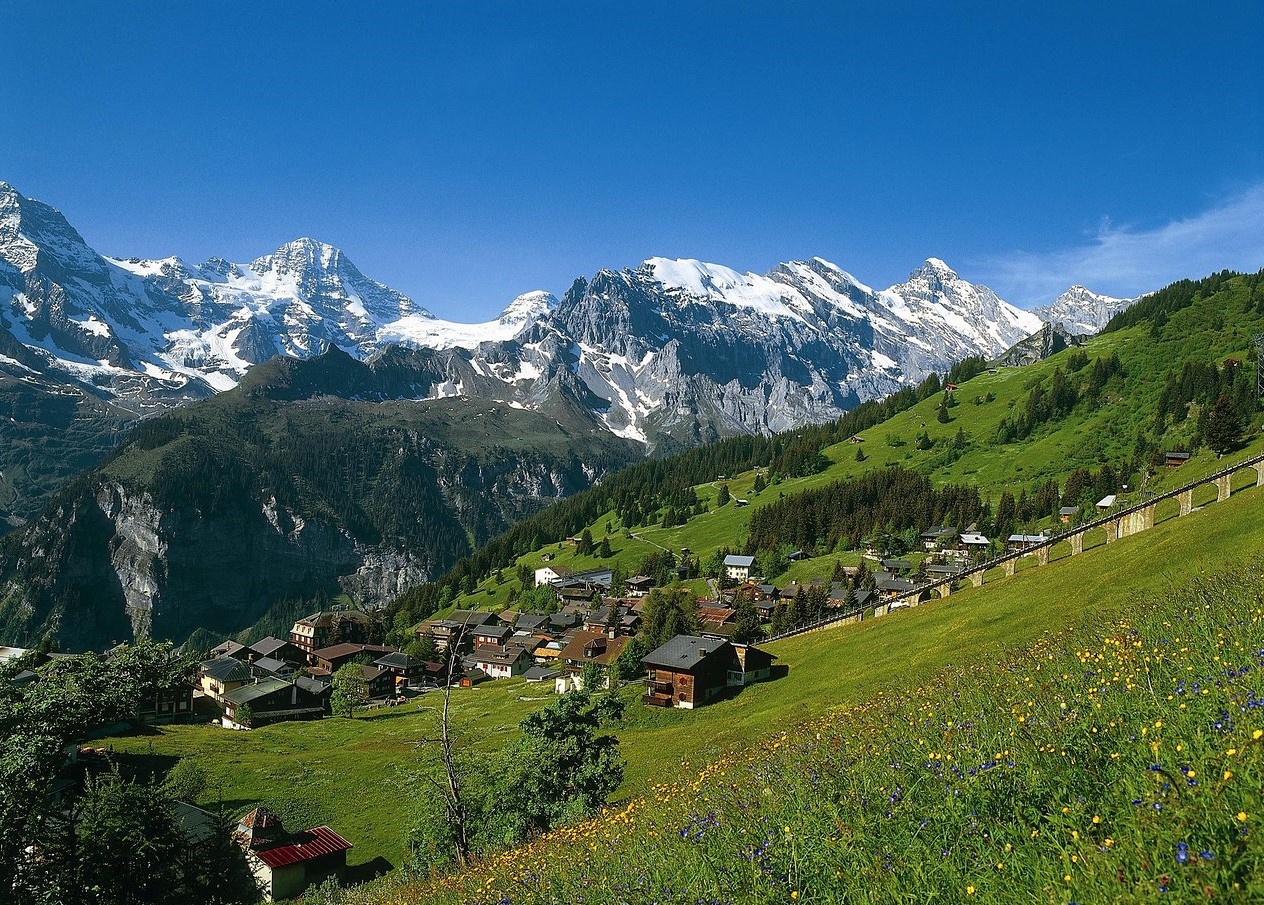 A visit to Lauterbrunnen isn't complete without a hike to Trümmelbach Falls, one of Europe's largest underground waterfalls. The falls are located just a short walk from the village center and can be reached via an easy-to-follow trail.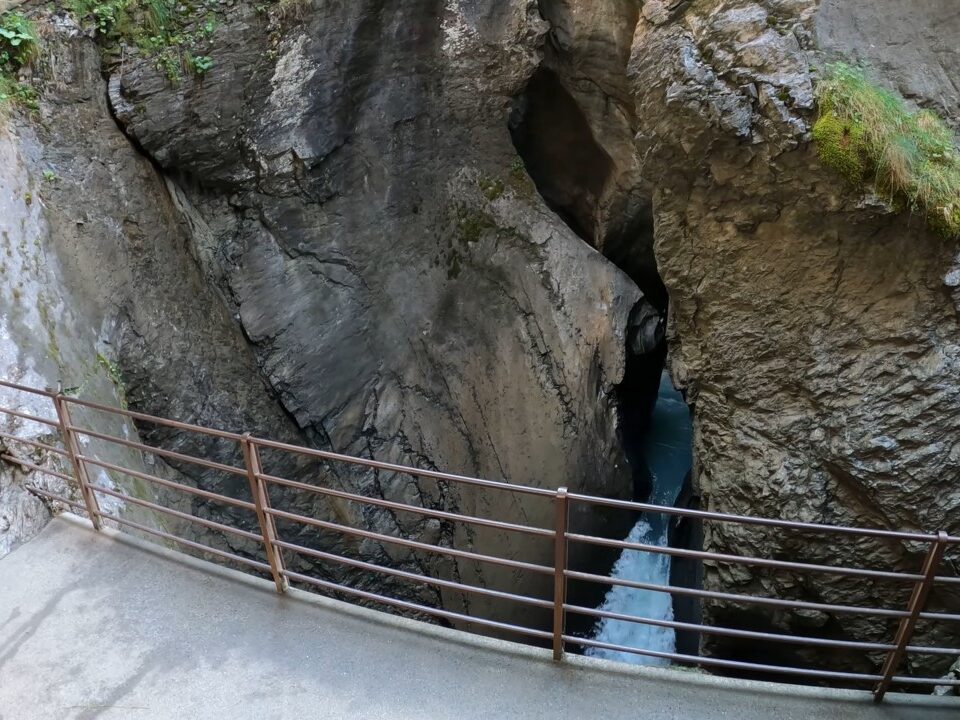 Lauterbrunnen is home to 72 waterfalls, making it one of the most water-rich areas in Europe. The Trümmelbach Falls are the largest of these waterfalls and are easily accessible by a short walk from the village center. For a truly breathtaking experience, take a hike up to the Staubbach Falls, which plunge 990 feet from a cliff face.
Go Paragliding
For those who are looking for an adrenaline rush, Lauterbrunnen is a great place for paragliding. There are several companies in town that offer tandem flights, so no experience is necessary. Just strap yourself in and let your professional guide take care of the rest as you soar over alpine meadows and forests with views of snow-capped mountains stretching out as far as the eye can see.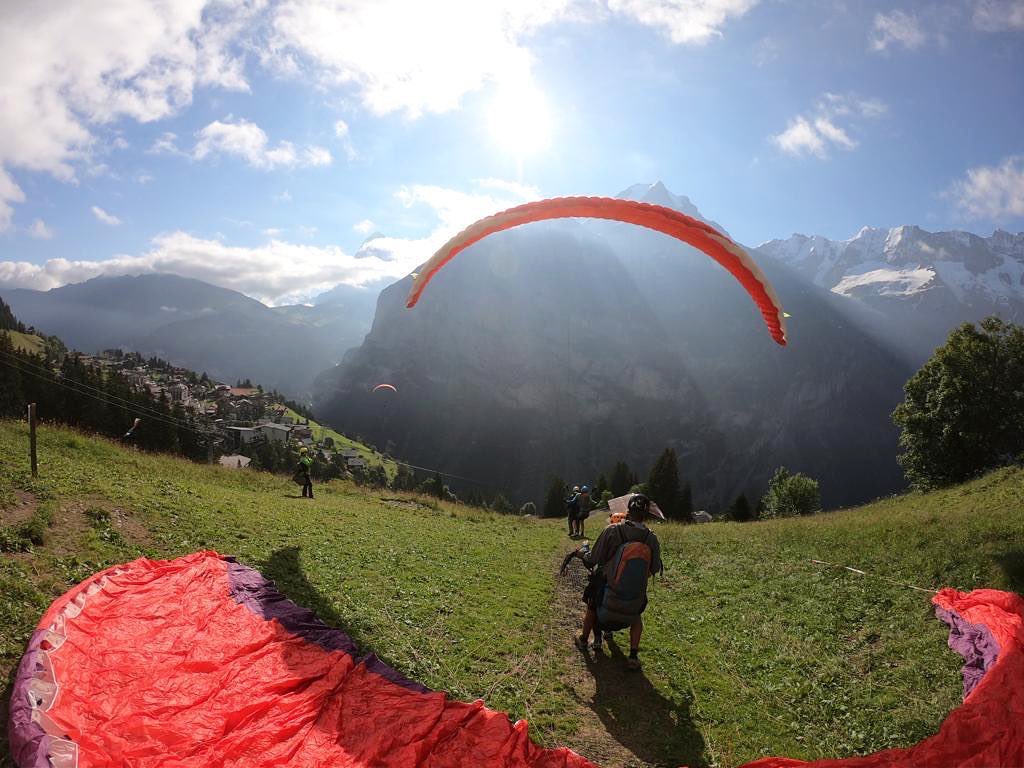 Take a Scenic Train Ride
One of the best ways to see all that Lauterbrunnen has to offer is by taking a scenic train ride on the Wengernalpbahn railway. The train runs from Lauterbrunnen through several tunnels and over bridges spanning gorges and rivers before arriving in Grindelwald, another picturesque village located in the Swiss Alps.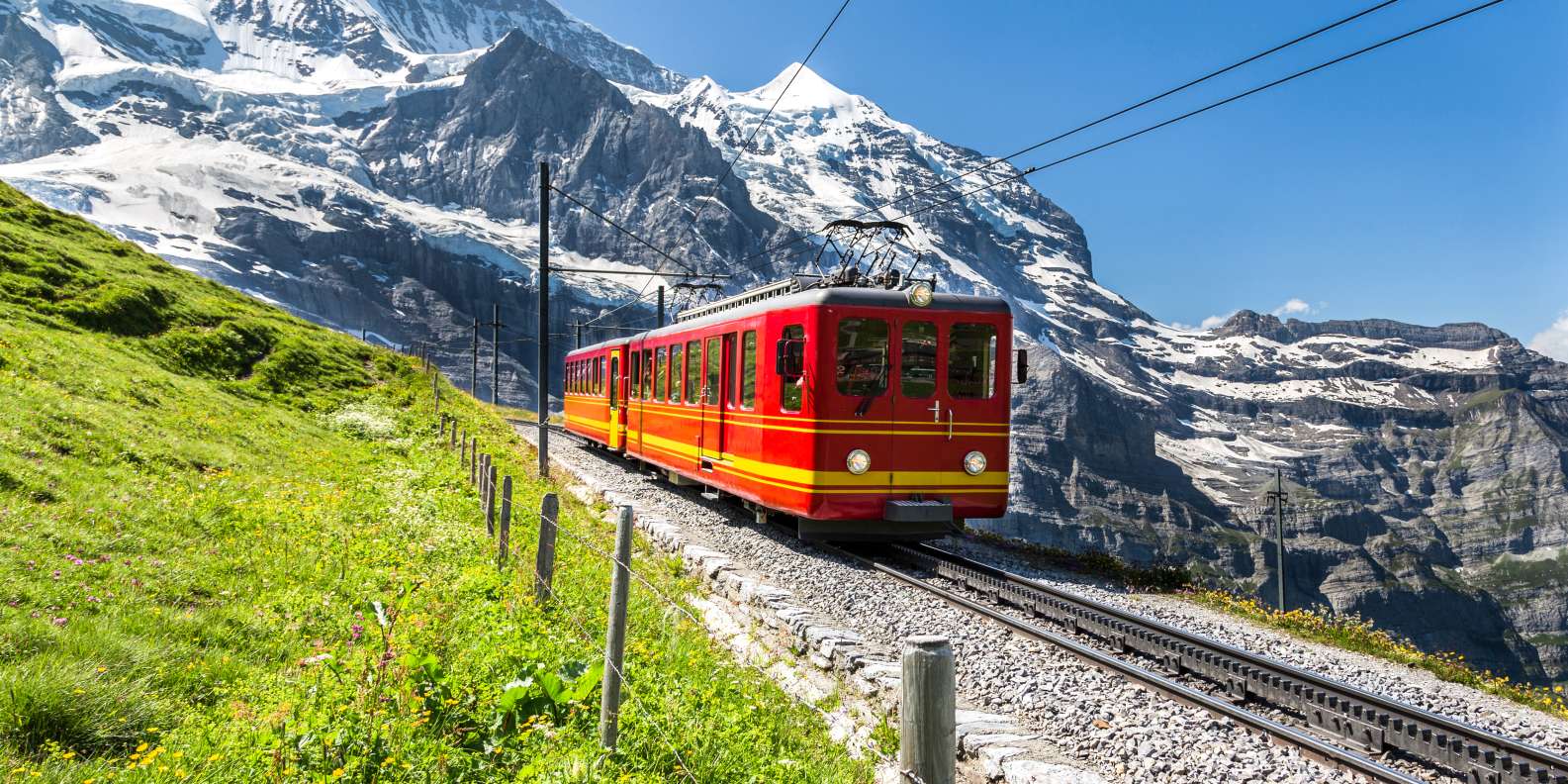 Best 5 Lauterbrunnen waterfalls
When you think of Switzerland, what comes to mind? Chances are, you think of the Swiss Alps, with their towering peaks and pristine snow. But did you know that nestled in those very same Alps are some of the most breathtaking waterfalls in the world? Lauterbrunnen, Switzerland, is home to 72 waterfalls, including three of Europe's tallest. Here are the five best Lauterbrunnen waterfalls you have to see.
1. Staubbach Falls
At nearly 1000 feet tall, Staubbach Falls is one of the tallest waterfalls in all of Europe. What makes Staubbach Falls even more unique is the fact that it is entirely fed by melting snow and glacial runoff, meaning that the flow of the waterfall can vary significantly depending on the time of year. Late spring/early summer is typically when Staubbach Falls is at its fullest.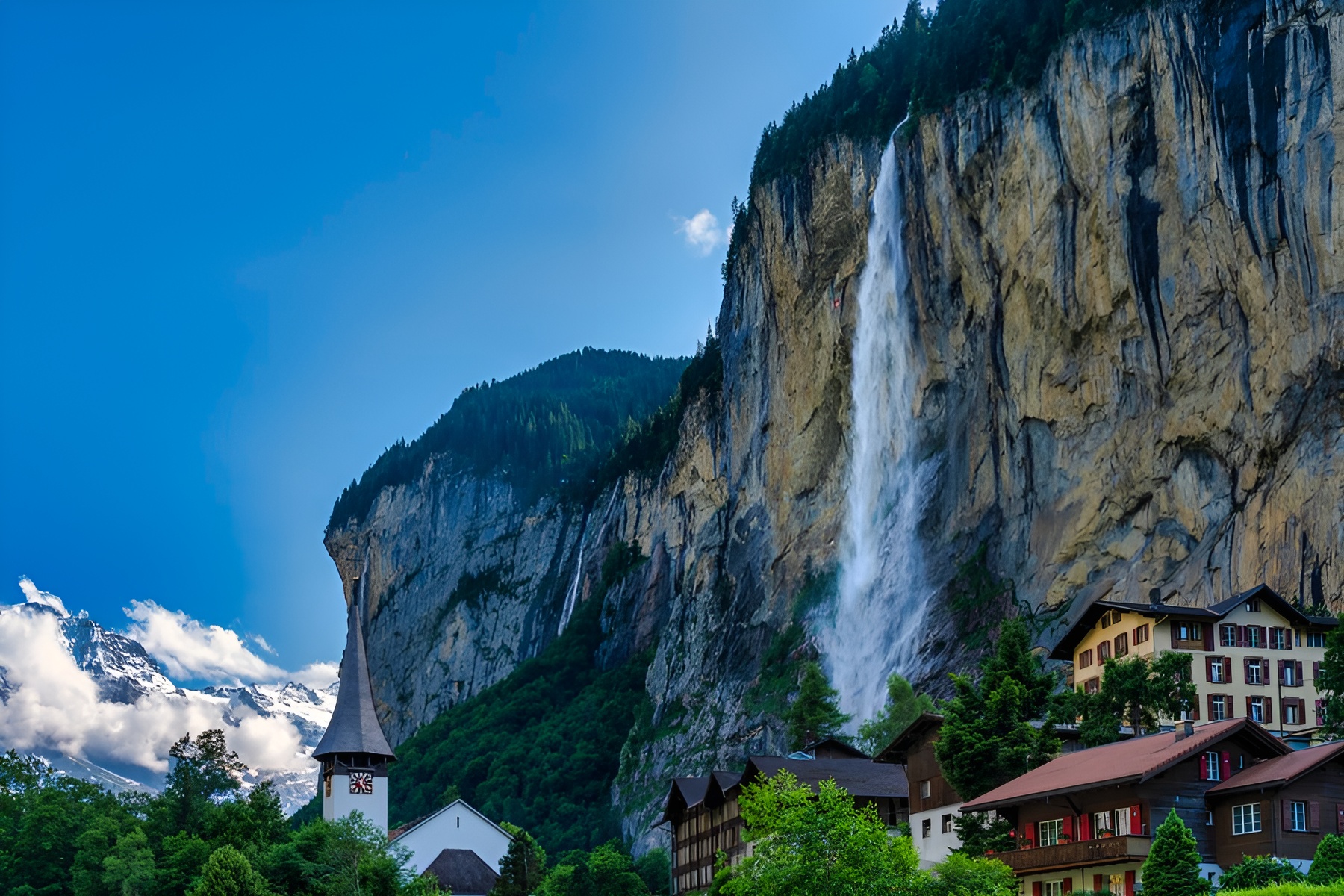 The best way to experience the falls is by taking the cable car up to Mürren (a small village located high above Lauterbrunnen) and then hiking down to Staubbach Falls. The hike takes about 45 minutes and offers stunning views of both the valley and the falls.
2. Trümmelbach Falls
Are you up for a bit of a hike? If so, then you'll want to check out Trümmelbach Falls. This high waterfall is hidden away inside a glacier, and can only be reached by taking a short hike through a series of tunnels. Once you catch a glimpse of the glacial runoff rushing through the tunnels and over the cliffs, you'll be glad you made the trek.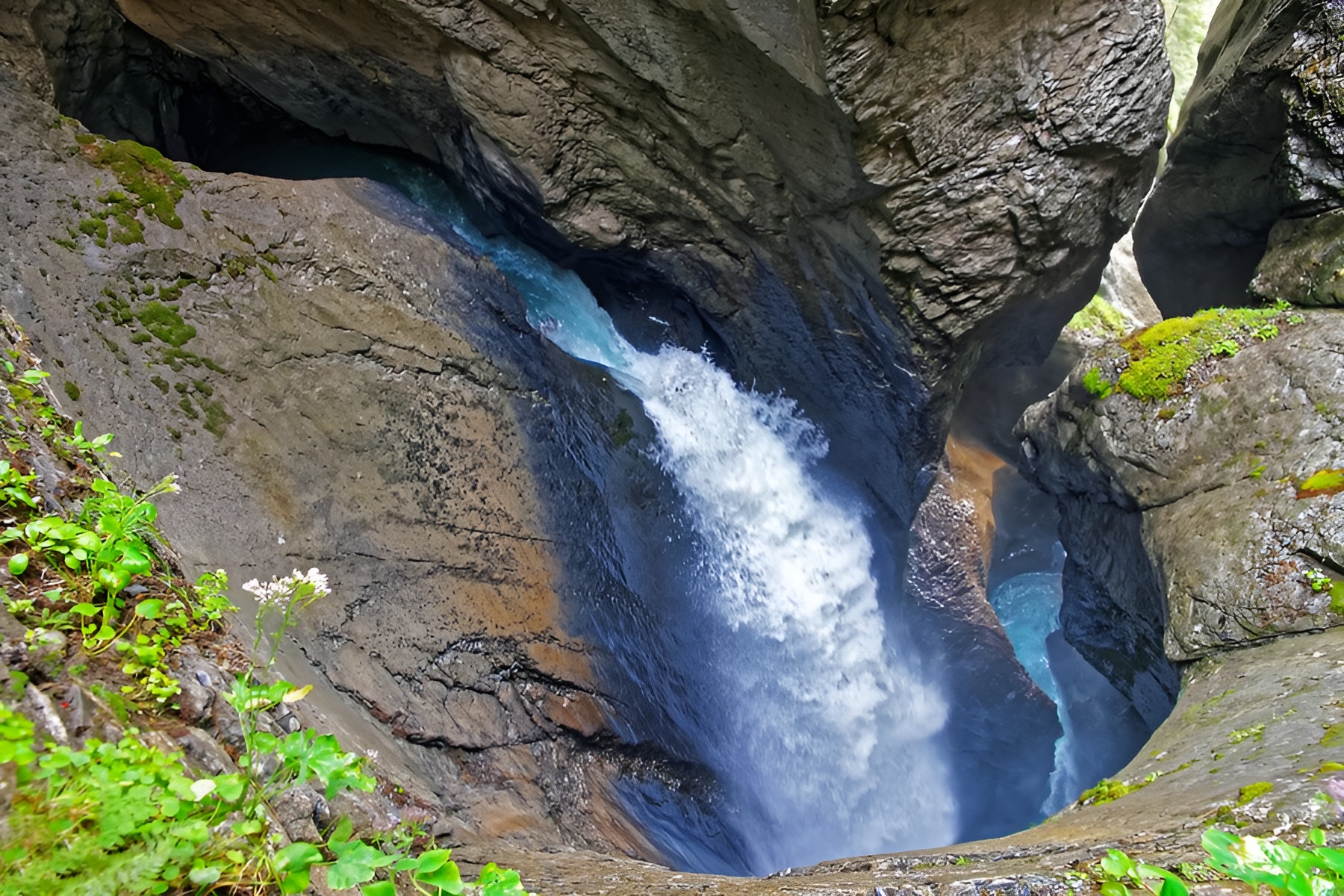 3. Giessbach Falls
Giessbach Falls derives its name from two nearby streams—the Giess and Bach—that converge just before tumbling over the edge of a cliff. Measuring in at just under 500 meters tall, Giessbach Falls may not be as tall as some of the other falls on this list.
The Giessbach waterfall may be seen from the observation platform at the bottom of the falls or by taking the walking trail that winds its way up the cascades. If you want to go extremely close to the waterfall (and don't mind getting a little wet! ), you may stroll behind one of the cascades. The trail passes in front of the waterfall.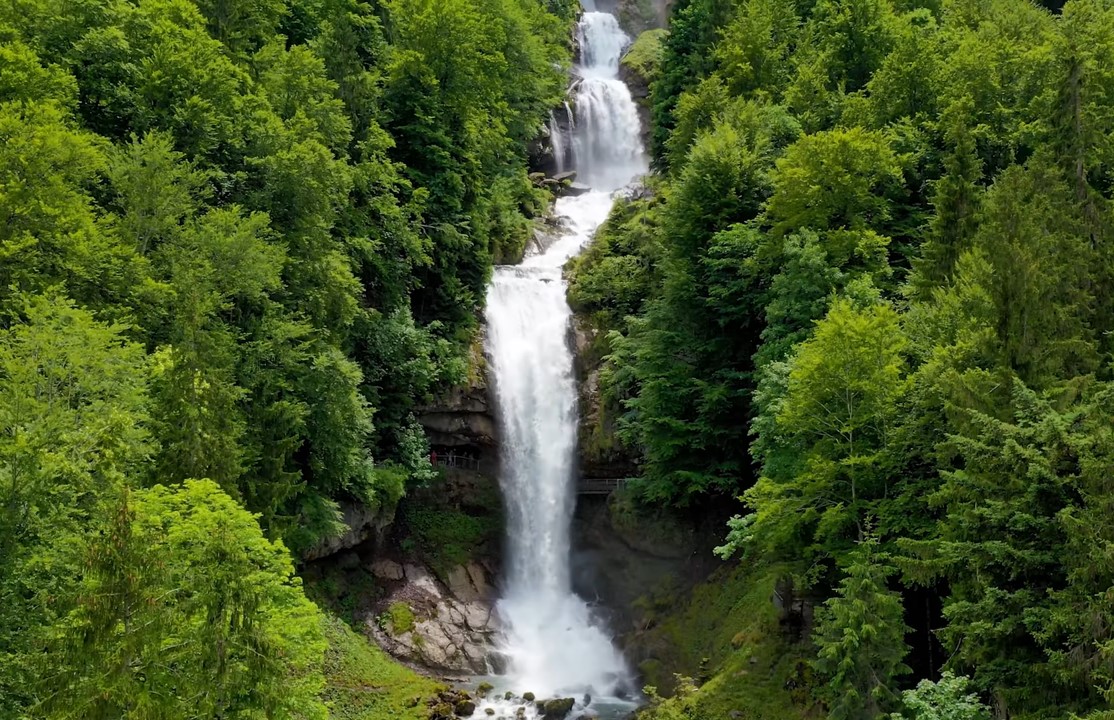 4. Mürrenbach Falls
Switzerland's tallest single-fall waterfall is the Mürrenbach Falls. In Stechelberg, in the Lauterbrunnen Valley, the waterfall is close to the cable car's valley station to Mürren. The Mürrenbach Falls, which has a drop height of 417 meters, is reportedly the tallest single-fall waterfall in Switzerland.
The Mürrenbachfall is fed by melting snow from the summits Birg and Schilthorn (2.970 m). Early summer still has a lot of snow on the mountains, with mild weather, this is the ideal time to explore the Lauterbrunnen valley's waterfalls.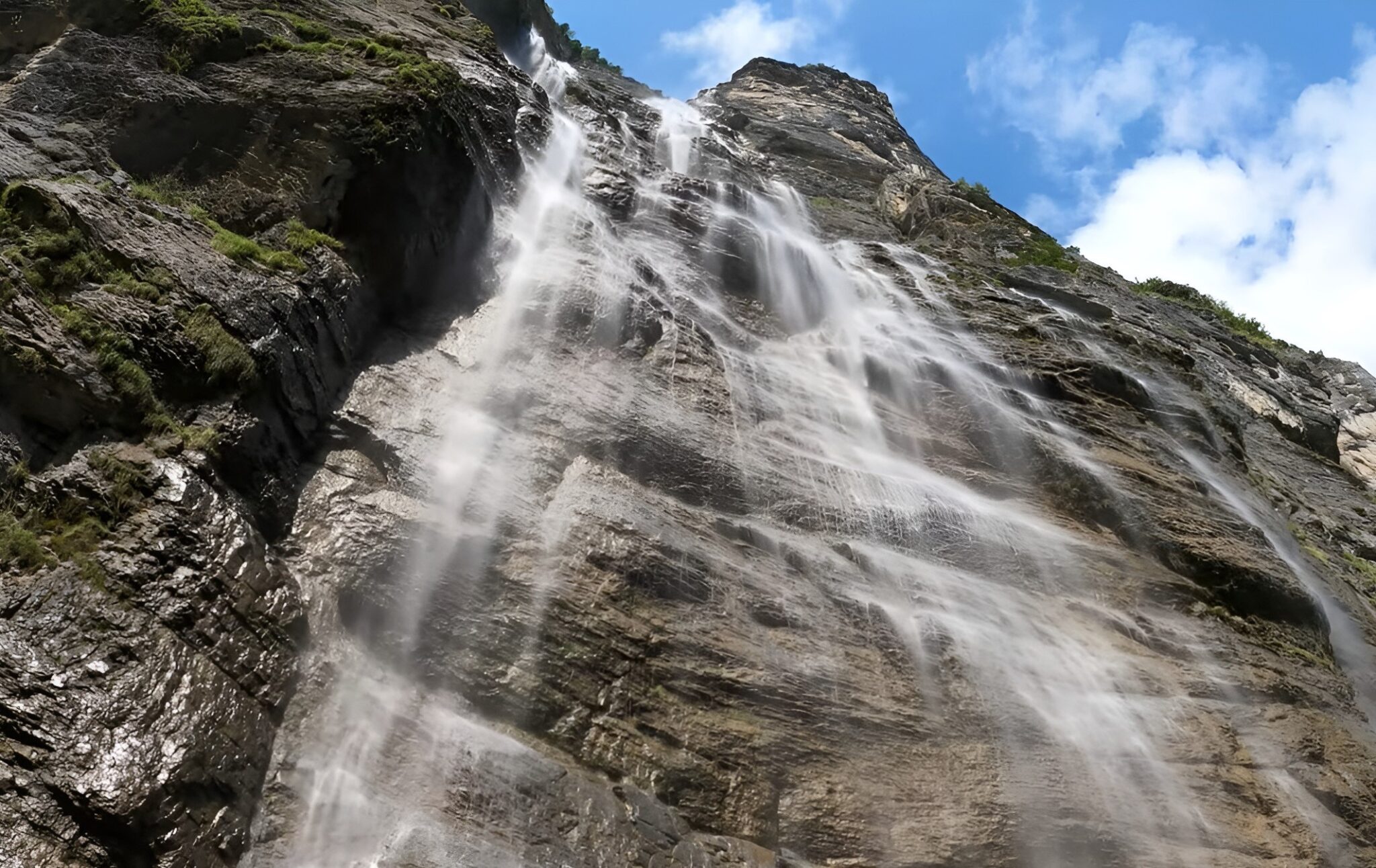 Spissbach Falls
Spissbachfall is a single-fall waterfall in Switzerland. It is one of the top ten highest single-drop waterfalls in Switzerland with a 280-meter plunge.
The Spissbachfall is formed by melting snow from the Bietenhorn/Schwarzbirg mountains (2.755 m). The flow varies considerably depending on the season, but the Spissbachfall remains a low-intensity waterfall, Nonetheless, it's worth seeing when visiting Lauterbrunnen Valley.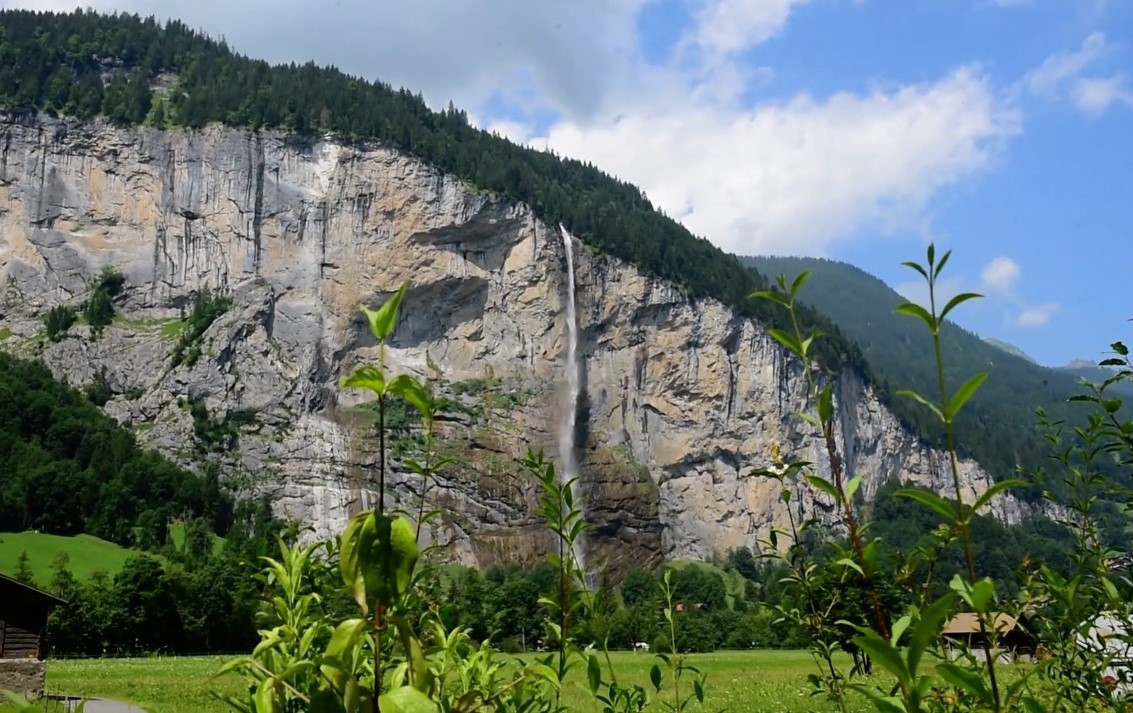 Related Article: Iceland – Beautiful Country in Europe
Lauterbrunnen FAQs
What are the best restaurants in Lauterbrunnen?
There are plenty of great restaurants to choose from when you're visiting. Here are 5 of the best.
1. Hotel Oberland Restaurant
Traditional European food is served at this Lauterbrunnen restaurant within the Hotel Oberland, which is situated in the heart of the community. They provide a variety of beverages, from smoothies to fine wines, and have a garden area outside where customers may dine in the summer.
Soups, salads, pizzas, spaghetti, meat, and fish meals, and classic Swiss fondues and röstis are available on the extensive menu.
This is one of the most delectable Lauterbrunnen restaurants, with an extensive dessert menu ranging from ice cream to their highly-rated chocolate cake.
2. Mary's Cafe
This is one of the best eateries to check out when out exploring the mountains on your skis or board. It is located on-piste just above Lauterbrunnen in Wengen Village. Also accessible from the hiking routes is Mary's Cafe.
This beautiful café in Lauterbrunnen offers breakfast and lunch in addition to a variety of hot and cold beverages, beer, and wine. The menu features hearty, traditional Swiss fare served in front of a warm fire with the stunning Alps as a background.
3. Restaurant Sulwald Stubli
The Sulwald-Stübli restaurant in Lauterbrunnen offers breathtaking views of the valley and the mountains. It is located in the mountains halfway between Lauterbrunnen and Wengen and is accessible by road and walk.
The menu offers a variety of soups and classic Swiss dishes for vegetarians, and the traditional wooden décor gives off a lovely Swiss chalet atmosphere. When looking for the top restaurants in Lauterbrunnen, you should definitely check out this cute little spot.
4. Restaurant Schutzen
When looking for something delicious to eat, this minimalist-style restaurant is a good visit. It serves typical Swiss fare like rösti and fondue.
The staff is nice and helpful, and all foods are provided with plenty of options for everyone. With a range of local beers on tap, this is one of the top Lauterbrunnen restaurants for families seeking a place that can accommodate the whole family.
5. Restaurant Caprice
This stunning restaurant is located just outside of Wengen and offers a panoramic view of the mountains as well as outside dining in the summer months. The 11-minute train travel is well worth it to enjoy all Restaurant Caprice has to offer.
Traditional cookery is prepared and served to the greatest degree, with a wonderful, well-thought-out menu catering to all dietary restrictions.
What are the best places to stay in Lauterbrunnen?
Lauterbrunnen is a village in the Swiss Alps that is well-known for its waterfalls and picturesque mountain views. It is also a great place to stay if you want to be close to nature and experience all that the Swiss Alps have to offer. Here are 5 places to stay in Lauterbrunnen that will give you an unforgettable vacation.
1. Camping Jungfrau
Camping Jungfrau is a campsite that is located in the Lauterbrunnen valley. It has stunning views of the mountains and waterfalls, and it is a great place for hiking and exploring the area. There are also several restaurants and cafes nearby, as well as a supermarket.
2. Hotel Baren
Hotel Baren is a 3-star hotel that is located in the center of Lauterbrunnen. It is close to all of the shops and restaurants, and it has its own restaurant and bar. The rooms are spacious and comfortable, and some of them have balconies with mountain views.
3. Apartments in Berner Oberland
Apartments in Berner Oberland is an apartment complex that is located just outside of Lauterbrunnen. It has apartments with one or two bedrooms, and they are all fully furnished. There is also a swimming pool, sauna, and garden on site.
4. Chalet Sonnenberg
Chalet Sonnenberg is a luxury chalet that is located on a hill above Lauterbrunnen. It has stunning views of the valley and the mountains, and it is surrounded by forests. The chalet has 3 bedrooms, 2 bathrooms, a living room, and a kitchen.
5. Hotel Alpenruh
Hotel Alpenruh is a 4-star hotel that is located in Grindelwald, which is about 10 minutes from Lauterbrunnen by train. It has an indoor swimming pool, sauna, steam room, and fitness center on site. The rooms are spacious and have mountain views.
There are many great places to stay in Lauterbrunnen for an unforgettable vacation. Whether you want to camp in the valley or stay in a luxury chalet, there is something for everyone. So what are you waiting for? Book your trip today!
Plan your Trip to Lauterbrunnen
​Lauterbrunnen is a beautiful place to visit with plenty of things to do, see, and eat. If you're looking for the best restaurant in Lauterbrunnen, look no further than Restaurant Schilthornbahn. And for places to stay, we recommend the Hotel Jungfrau or the Alpen Tower Hotel. Both provide stunning views of the surrounding area.
Lauterbrunnen is a nature lover's paradise and an ideal destination for a camping trip. With its towering waterfalls, lush green meadows, and snow-capped peaks, it's easy to see why Lauterbrunnen is often referred to as the "Valley of 72 Waterfalls." If you're looking for a truly unique camping experience, look no further than Lauterbrunnen!
Whether you're looking for breathtaking scenery, exciting outdoor activities, or just a chance to relax and get away from it all, Lauterbrunnen has something for everyone.
For more, do check out our other sections at travel-exotica.com